Exhibition shows secrets behind special effects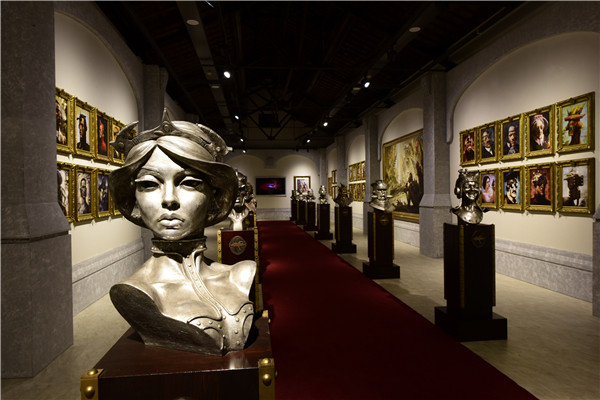 Visitors get a close look at the characters from fantasy films at the show The Future of the Visual Arts in Wuzhen, Zhejiang province. [Photo provided to China Daily]
An exhibition unveils the secrets behind Oscar-winning special effects, Deng Zhangyu reports from Wuzhen, Zhejiang.
Welcome to the fantasy land where characters from "Middle Earth", such as the wizard Gandalf, the Elf prince and the Hobbit Gollum, break into an ancient water town in East China, together with Dr Grordbort, with lots of ray guns from the future world.
An ongoing show, The Future of the Visual Arts, in the small town of Wuzhen in Zhejiang province, presents the magical world of The Lord of The Rings, a sci-fi film franchise, set in a landscape with a history of 1,300 years.
It's aimed to inspire Chinese young people engaged in the visual effects of the film industry, according to its organizers, the Weta Workshop in New Zealand and 421 Studio in China.
Large sculptures Weta Workshop designed for The Lord of the Rings and The Hobbit are displayed at a silk factory that has been transformed into an art zone since 2014. The show continues through May.
Gandalf the Grey stands at the entrance of the water town, with colorful lanterns glittering above his head. In the distance, Smaug, a powerful dragon from The Hobbit films, looks into wooden houses inhabited not by those from the "Middle Earth" but the local Chinese.
"It's a good clash with the environment," Richard Taylor, co-founder of Weta Workshop, says of the contrast between the futurist exhibits and the old-world charm of Wuzhen.