Beijing auction offers two Chinese masters' paintings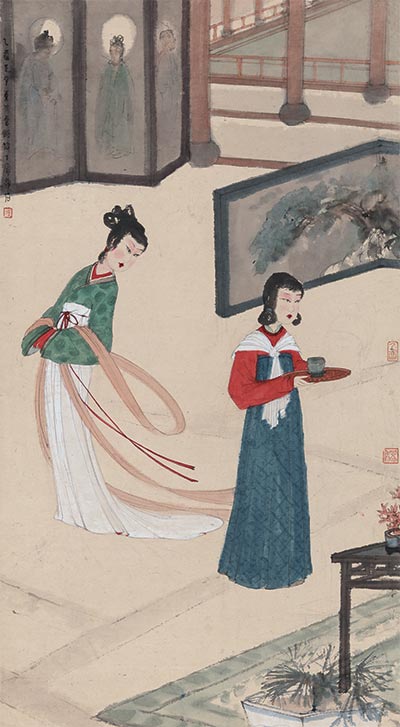 Feng Guang Hao by Fu Baoshi. [Photo provided to China Daily]
Modern masters' paintings including Fu Baoshi's portrait of court ladies and a colored landscape by Zhang Daqian will go under the hammer at China Guardian Auction's major autumn sales from Nov 12 to 16.
Besides his mountain-and-water paintings, Fu was well-noted for his skillful delineating of ancient figures. Feng Guang Hao (literally "a good view"), an ink work created in 1945, exemplifies his mastery by revealing the grace of two court ladies in a classically decorated study.
Zhang's painting, A Landscape of Mountains, reveals his longtime researches on the techniques of ancient painters such as Ju Ran and that he also incorporated a modern aesthetic.
The upcoming sales will feature hundreds of pieces of Chinese paintings and calligraphy, including several works cataloged in the Shiqu Baoji, a record of the Qing (1644-1911) imperial collection, or with a sound provenance.
A preview will be held Nov 9-11 at Beijing International Hotel's conference center.
Related:
Edvard Munch's 'Girls' to be auctioned at Sotheby's in November