Rare blend of reality and fantasy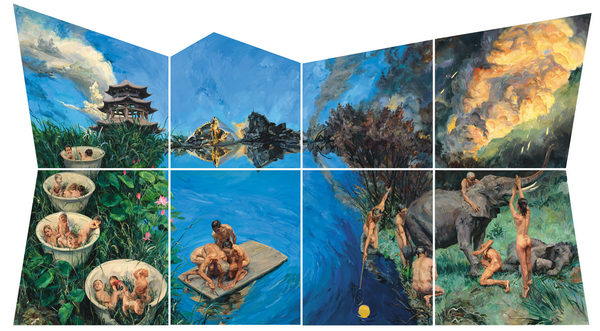 Artist Yu Hong's ongoing exhibition at the Art Museum of the Central Academy of Fine Arts includes the show's centerpiece, A Garden of Dreams, paintings that portray girls who strike gymnastic poses against backgrounds of sheer cliffs, and a glass sculpture. [Photo provided to China Daily]
Several years ago, artist Yu Hong came across an abandoned garden in a Beijing suburb. She walked through it and saw many nearly complete concrete pavilions built in traditional Chinese style and lotus blooming in a pool.
"It was a sunny day, and the blue sky and white clouds were reflected in the water. The flourishing lotus formed a sharp contrast with the pavilions that were in bad shape. The scene looked so beautiful," recalls the 50-year-old painter, who is also a professor at the Central Academy of Fine Arts.
The beauty of the garden inspired Yu to paint A Garden of Dreams last year, an oil work on canvas in which she reproduced the scene in the garden: blue sky, a pavilion, the pool and the lotus bloom. And she juxtaposed with the scene incidents and stories from the past and present, East and West, including plane crashes, explosions, child refugees and ancient Chinese fables, through which viewers can feel a mixture of reality and fantasy.
The huge painting, almost 10 meters in width, is now the centerpiece of her exhibition of the same title.