Wang Qijun's painting exhibition held at Peking University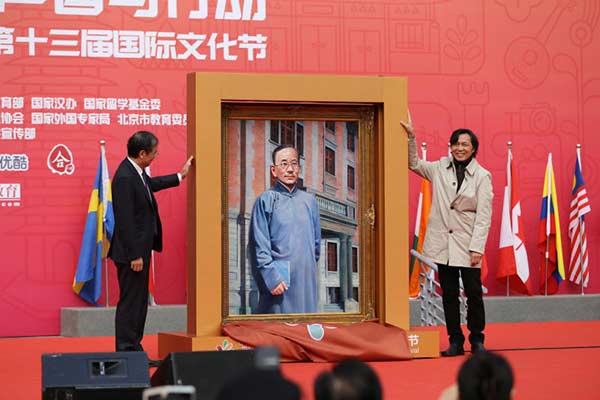 Wang Qijun (right),donated his oil painting "Cai Yuanpei" to Lin Jianhua, president of Peking University, in the opening ceremony of the 2016 Peking University International Culture Festival. [Photo provided to www.chinadaily.com.cn]
Visitors to the second floor of the Peking University Hall are impressed with a solo painting exhibition depicting true-to-life Peking Opera characters and riverside towns in Jiangnan.
Jiangnan is a name that describes the areas south of the Yangtze River famous for beautiful scenery.
The exhibition by Wang Qijun, a professor at the Central Academy of Fine Arts in Beijing and an overseas visiting scholar at Peking University, is a major event of the 2016 Peking University International Culture Festival which will be held till early next month.
With the theme "Vision: Voice and Action," the festival has drawn overseas students from 60 countries and regions who are studying at Peking University, festival organizers said.
In the opening ceremony held on Sunday, Wang donated his oil painting "Cai Yuanpei" to Lin Jianhua, president of Peking University.
In 1917, Cai (1868-1940) started working as Peking University's president – a position he would hold for a decade. His concept of free ideas is the cornerstone of education at the university.
Wang has done the painting of Cai specially for the festival.
With his artistic talent demonstrated in his childhood, Professor Wang Qijun published picture-story books when he was less than 20, said Hardy Yong Xiang, a professor in the School of Art at Peking University and a vice president of the university's Institute for Cultural Industries.
"Professor Wang Qijun's adeptness in different categories including arts and crafts, architectural arts, oil and traditional Chinese painting and calligraphy shows his profound art of composition," he said in his preface to Wang's new painting collection "Singing while Traveling in Nostalgia."
As a native of Jiangsu province, part of the Jiangnan region, Wang has painted riverside towns for many years.
He had his thesis "Picturesque Scenes in Dwellings in Jiangnan" published to explain why so many painters have shown a strong interest in the riverside towns of Jiangnan. He wrote that they combine the beauty of traditional dwellings and that of river channels.
Peking Opera also originated in the Jiangnan region, developed to be a quintessential part of Chinese culture and became the definitive art form showing the value of the Chinese culture.
"Professor Wang Qijun, with his unique insight, selected Peking Opera as a theme of painting. No matter the long stroll drawing with many lifelike characters or the works of individuals of different postures, he applies the superb technique of modern figure drawing and depicts exceptionally ingenious artistic figures," Xiang said.