Things you need to know about the Chinese national anthem and flag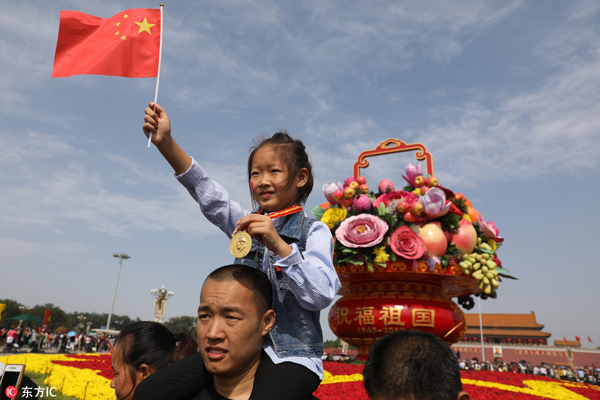 A Chinese girl holds the Chinese national flag in Tiananmen Square during National Day celebrations in Beijing, China, October 1, 2017. [Photo/IC] 
"It is a call to arms, it invites [you] to participate, many anthems are like that. Even though it's about a historical event, it feels more contemporary, calling for the action to continue," he said.
The national flag of China has a red background symbolizing the spirit of revolution, one large yellow star and four smaller ones that represent golden rays radiating from a vast red land, according to the China Yearbook.
The four smaller stars, each with a corner pointing at the big yellow star, also symbolize the unity of the Chinese people under the leadership of the Communist Party of China. The design for the flag was open to a nationwide competition in 1949. Zeng Liansong's submission was ultimately selected out of 1,920 submissions.
China has already adopted laws covering its national flag in 1990 and national emblem in 1991.