Things you need to know about the Chinese national anthem and flag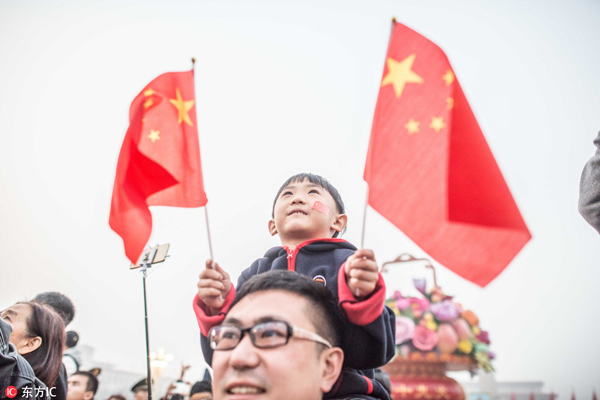 A Chinese boy waves national flags as he and his father watch the national flag-raising ceremony marking the 68th anniversary of the founding of the People's Republic of China on the National Day at the Tian'anmen Square in Beijing, China, October 1, 2017. [Photo/IC]
Things to learn about the Chinese national anthem and national flag
China's national anthem, "March of the Volunteers," honors those who fought on the front during World War II against Japanese invaders in northeast China.
The song was written in 1935 by poet Tian Han with music by composer Nie Er, but it didn't become the provisional national anthem until Sept. 27, 1949, the same day that China's national flag and emblem were also approved.
It was officially adopted as the national anthem on Dec. 4, 1982, according to China's central government website.
"The Chinese anthem was established during a very tumultuous period of revolution and adapted to draw people together around a common cause," sociology professor Karen A. Cerulo of Rutgers University in the US told CGTN America during an interview.