Books de-mystify China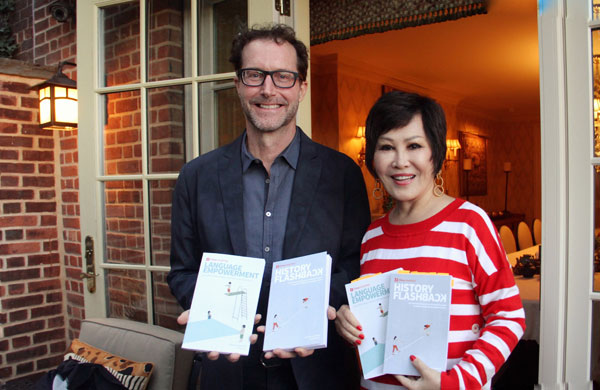 Stewart Lee Beck(left), author and producer of the China simplified book series and Yue-Sai Kan, Chinese American television host and producer, entrepreneur and bestselling author, present the two books of the series at a book launching party in New York on Friday night. [Photo by Hong Xiao / chinadaily.com.cn]
Stewart Lee Beck, who has lived and worked among the Chinese for 24 years, has always wondered what it is about China that intrigues foreigners like him so much.
And why, with all that's been written and said about the land, is China still so misperceived and misunderstood?
The two questions became the genesis of his China Simplified project.
The project aims to explore and demystify China and its people for the rest of the world.
"By shifting our collective attention beyond the 1 percent (hot-button issues in the mass media) to the other 99 percent (relevant conversations about history, language, business, and more), we hope to raise cultural awareness and increase mutual understanding," writes Beck, who calls himself the project's managing dreamer.
So far, two books from the project — Empowerment: Demystify Chinese Culture and Fire up your Mandarin and History Flashback: An Entertaining Journey through the Past to Better Understand Modern China — written and produced jointly by Beck and his team members, are available.
"My plan was for us to collaborate on a fast-read book full of lighthearted stories," he said, "that is, to use the language as a window into the culture."
Language Empowerment is not just a textbook or a language course; the authors also impart plenty of encouragement, spinning story after story about the many pitfalls of learning Mandarin.
For example, the phrase "Ma Shang Dao Le" is translated into "I'll be there immediately", but because of cultural differences, the true meaning of the sentence is "I'll be there sometime in the near future, probably."
"It sounds fast, it should be fast, but in reality it probably means your meeting is going to start half an hour late," Beck explains in the book.
Beck has conducted business in China since the early 1990s and since then has been learning the Chinese language. After immersion training, Beck was inspired to give up the sterile, academic approach.
"I committed myself every time I studied to find something entertaining, unexpected or intriguing in the universe of Mandarin. In short, I started having fun," he said.
"That little change of focus made all the difference in the world," he added.
Beck believes unless you aspire to make your living as a translator or in professional broadcast, attempting to learn to speak, read and write perfect Chinese from scratch as an adult is a venture in futility.
"Most people quit, which is sad because buried somewhere in all that frustration is the spark of genuine interest. And that is what this book is all about — sharing my many personal disasters (and a few triumphs) to help make the Chinese language and culture more accessible to a wider audience," he writes in the foreword of the book.
"Let go of your fear and persevere, and have some fun along the way!" Beck said, calling that the best advice for language students at any level.
The other book, History Flashback, which combines serious research and good humor, gives readers an introduction to Chinese history from Sima Qian, a historian in the Western Han Dynasty (206 BC-AD 24), to Chairman Mao.
"This is the history book for people that didn't know they love history," said Yue-Sai Kan, a Chinese-American television host who is also Beck's friend.
"The authors both entertain and inform with each turn of the page, to leave us with a lighthearted appreciation for the supreme depth of Chinese civilization," Kan said.
"The future of our world is interconnected with that of the people of China. Wouldn't it be great if we could all communicate a little better with one another?" Beck wrote.