Animated film targets adult audiences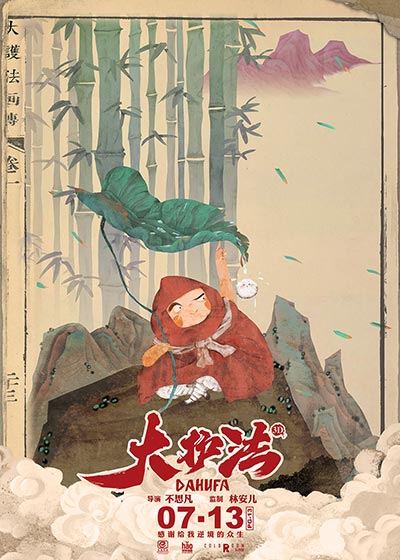 Poster of Dahufa [Photo provided to China Daily]
Film Dahufa, China's first movie labeling it "PG-13", has received critical acclaims from the country's animation circle in advanced screenings.
The upcoming movie, which is set to open across China on July 13, recently held a series of previews during its promotional tour.
Centering on the titular person, a short martial arts master born to safeguard the fictional Yiwei State, the tale follows his adventure to rescue the nation's crown prince in a town populated by peanut-headed humanoids.
The movie targeting adults contain some bloody, violent scenes as well as sort of soft-porn lines.
But even with these contents, the movie is reckoned to build a serious theme to examine freedom and dignity, according to some animators.
Du Jun, CEO of the hit animated franchise Kuiba's producing company Vasoon Animation, says the movie ponders over human nature.
As China hasn't adopted a rating system by ages, the producers highlight on some trailers and posters to warn the movie is not fit for audiences younger than 13 years old.
Yang Zhigang, more known for his stage name Busifan, reveals on his Sina Weibo, the Chinese equivalence to Twitter, that the movie will also have two voice-over versions, respectively in Mandarin and Cantonese.