Chinese explorer's incredible arctic journey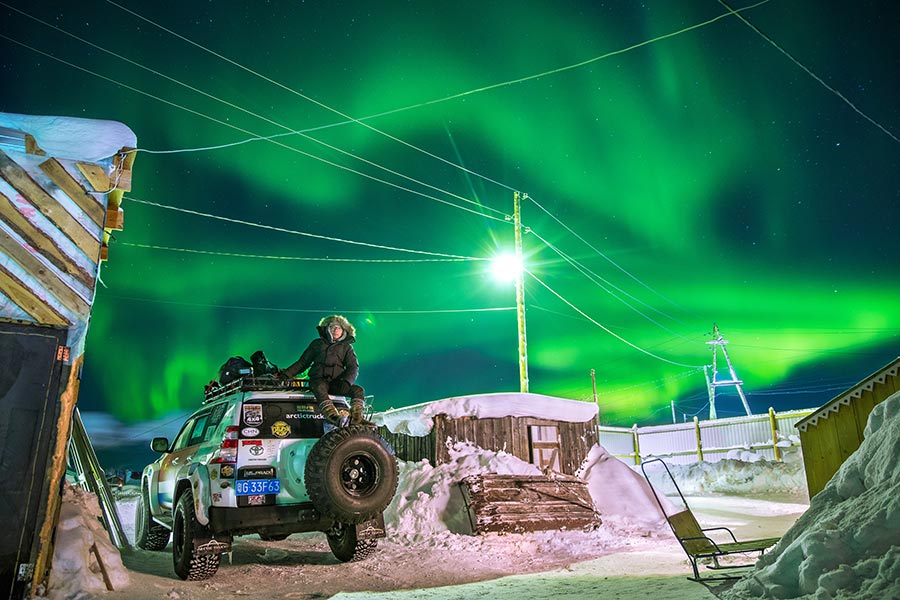 Chinese explorer Wu Yu sits atop his modified Toyota Landcruiser, the Northern Lights shining above, after driving 8,000 kilometers from the South China Sea to the Arctic Ocean. [Photo provided to China Daily]
Land of ice and snow
The days and miles ticked by, as the temperature began to fall the further north they traveled, finally reaching the Russian border. This time, all documents checked out, and Wu sailed into a land of ice and snow.
This is where the journey became difficult. Lake Baikal-the world largest, oldest and deepest freshwater lake dominates the landscape in southern Siberia.
Formed from a rift in an ancient valley, the immense body contains 20 percent of the world's unfrozen fresh water and sinks as deep as 1,642 meters.
Choosing to avoid the lake, Wu stuck to the roads to cross the mountain ranges in Ulan Ude.
This proved impossible. Three meters of heavy snow had made the roads impassable, even for Wu's heavily modified vehicle equipped with four-wheel-drive and snow tires. On Feb 4, Wu was forced to turn back.
"There was no way to get through," Wu says. "So we had to return to the city and enquire about another way."
After speaking to local officials and guides in the town of Ust-Kut, there turned out to be one other way north that wouldn't lose them so much time as waiting for the snow to clear-the lake.
For almost five months a year much of Lake Baikal's surface is frozen with many parts navigable by car. With the help of a local guide, Wu was escorted across the frozen blue lake.
The majestic scenery in a world of white whirled by and as the mercury got lower and lower, so did the kilometers until Wu crossed into the Arctic Circle and made it to the Arctic Ocean.