Women show off the beauty of Chinese qipao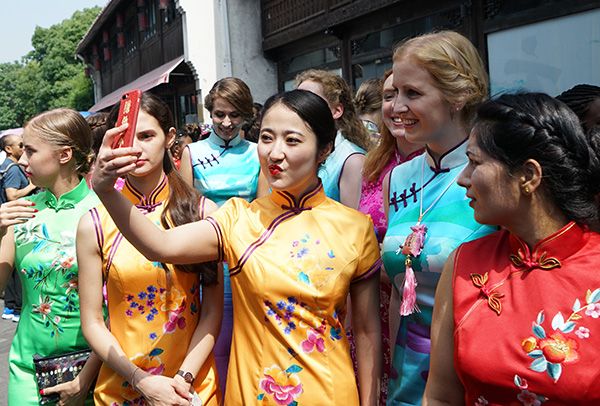 Women from different countries wear qipao, the traditional Chinese dress, and pose for a selfie during the Hangzhou Global Qipao Festival in Zhejiang province on Friday. DONG XUMING/CHINA DAILY
Thousands of women from many countries wore qipao, a traditional Chinese women's dress, in fashion shows and on the streets of Hangzhou, Zhejiang province, on Friday.
Hundreds of women attended the three shows at West Lake, Gongchen Bridge on the Beijing-Hangzhou Grand Canal and China Silk Museum. They sang, read poems and posed for cameras at the picturesque sites.
People wearing qipao were allowed special discounts in many shops and places of interest in the city on Friday, including bookstores, coffee shops and the famous Xixi National Wetland Park.
"Qipao remind me of China and the beauty of Chinese women," said Mathilde Blaschyk, a French woman who has been living in China for six years.
"Women in qipao are very beautiful and walk in a graceful way. I want to be more beautiful, and that's why I chose to attend the qipao fashion show today."
She said that she is very interested in Chinese culture and learning to walk in a qipao was fun.
Some of the women and girls wore qipao printed with views of Hangzhou, a renowned tourist city in China.
Women and girls, aged from 8 to 63, attended 12 qipao fashion shows in Hamburg, Madrid, London and Sydney in May. They were part of the Global Qipao Festival initiated by Hangzhou to promote the traditional dress, and the city, to the world.