Chinese-built railway pushes forward Kenya's modernization drive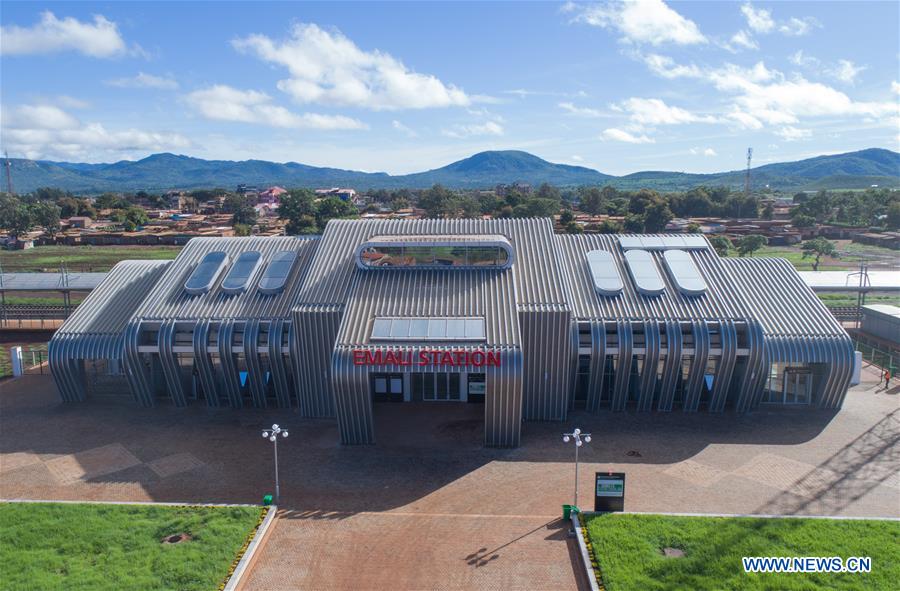 Photo taken on May 10, 2017 shows the Emali station on Kenya's Mombasa-Nairobi Standard Gauge Railway (SGR).[Photo/Xinhua]
NAIROBI — The 480 km railway linking Kenya's largest port city Mombasa to capital Nairobi, slated to be officially launched on Wednesday, will be a key infrastructure project that will push forward the East Africa nation's modernization drive, a senior company executive said Monday.
"The launch of the standard gauge railway (SGR) will undoubtedly contribute to Kenya's economic and social development as well as improve people's livelihoods and lead the country to prosperity," said Chen Yun, vice-president of China Communications Construction Company, parent company of the China Road and Bridge Corporation which built the mega-project.
In an interview with Xinhua on the sidelines of a ceremony held here in Nairobi for the release of the company's social responsibility report regarding the SGR project, Chen said that the company has endeavored to build the Kenya SGR project into a quality project that will endure the test of time. "The Mombasa-Nairobi railway is also a way of cooperation, mutual benefits and prosperity," Chen said.
According to the report, the SGR project has created more than 46,000 jobs for the locals and the number of local workers who received training hit 45,000, gaining the much-needed skills and technical knowhow to help them grow. The SGR project is also estimated to be adding 1.5 percentage points to Kenya's GDP growth, a figure the Kenyan government reckons with.
As Africa strives for integration, Chen believed that Africa will continue to see the birth of many more railway projects on the continent.
He revealed that during a recent talk between him and Kenyan President Uhuru Kenyatta, the president said he would promote SGRs in the east Africa region so that the region can upgrade and renovate existing railways and enhance transport capacity.
Chen added that the Belt and Road Initiative proposed by China, which aims to build a trade and infrastructure network connecting Asia with Europe and Africa along and beyond the ancient Silk Road trade routes, will also provide immense opportunities for African countries, and companies involved.