Chinese explorer's incredible arctic journey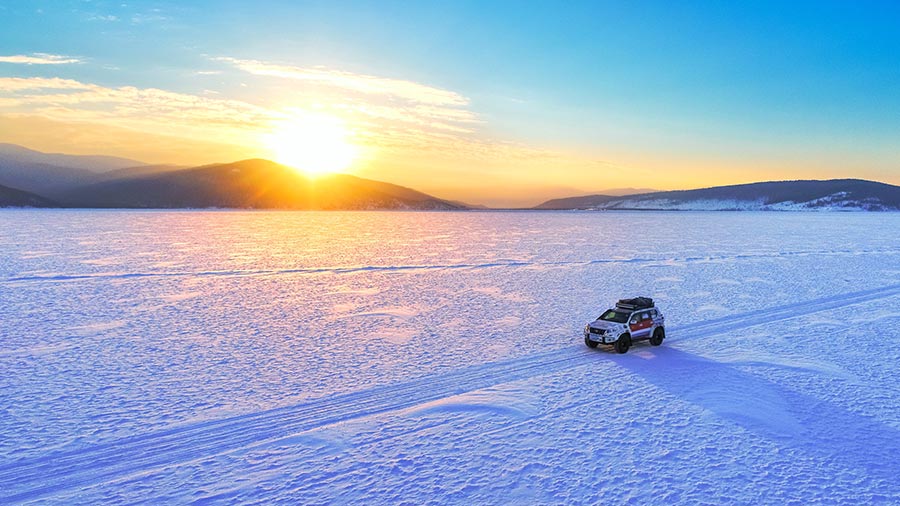 Wu's modified Toyota Landcruiser skates across an arctic plain at sunset, as the Zhenjiang explorer nears his destination. [Photo provided to China Daily]
Forever flat plains
Hitting the road again, Wu headed northwest to the Chinese-Mongolian border, leaving the city behind in exchange for a more rugged landscape to whiz past the windows.
Soon the bumps of China's northeast flattened out to become Mongolia's vast, unending green plains.
Then trouble struck. What was thought to have been a paperwork formality, turned into a headache at Mongolia's Zamen Ude border-crossing.
"Officials at the border provided us with the wrong entry documents," Wu says. "So a few hours later we were stopped by the police and detained until the correct documents could be issued."
Putting the hiccup behind him, Wu arrived in the Mongolian capital Ulaanbaatar on Jan 30.
Crossing from Mongolia's forever-flat plains can be tiresome recalls Wu, the dead-straight roads stretching onward to the horizon.
"To keep our spirits up and often time to keep us awake, we listen to local radio stations, and sometimes if the music isn't to our taste, we brought along plenty of Chinese music as well."