Chinese explorer's incredible arctic journey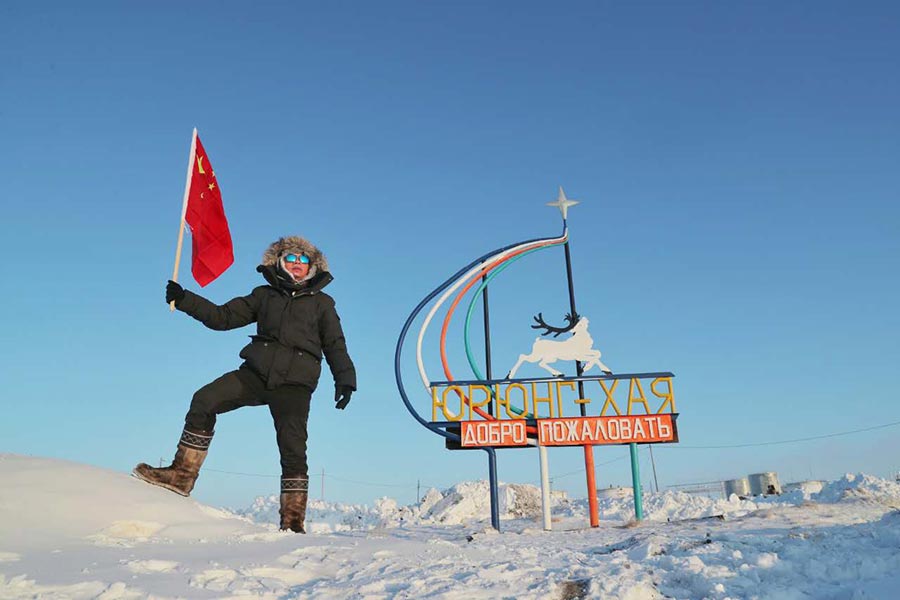 Wu Yu holds the Chinese flag aloft after reaching Yuryung-khaya, the most northerly village inside the Arctic Circle. [Photo provided to China Daily]
First milestone
Starting from China's very southern tip on Jan 20, preparations for the monthlong journey north were extensive.
"We spent weeks and weeks preparing and planning, making sure we had enough food, water, gas, and spares," Wu says. "We also spent a lot of time studying the journey and preparing for any problems along the road."
Crossing South China's mountainous lush-green landscape proved easy on the first leg, thanks to China's extensive investment in the road network in that part of the world, but Wu knew that it would get more difficult the further north he went.
"Generally, most roads in China are fine, the main expressways long and straight," Wu says. "However in Mongolia and Russia the roads can be unpredictable."
The first milestone of the epic journey came on Jan 24 as Wu arrived in Beijing, after covering more than 2,500 kilometers in his first five days on the road.
While in the nation's capital, Wu met with Russia's ambassador to China, Andrey Denisov, who certified him as an envoy of cultural exchanges between the two countries.
Denisov said that it has been 68 years since China and Russia first established diplomatic relations and hoped for a great many more to come.