Animation 'Monkey King', 'Song of the Sea' winners at China festival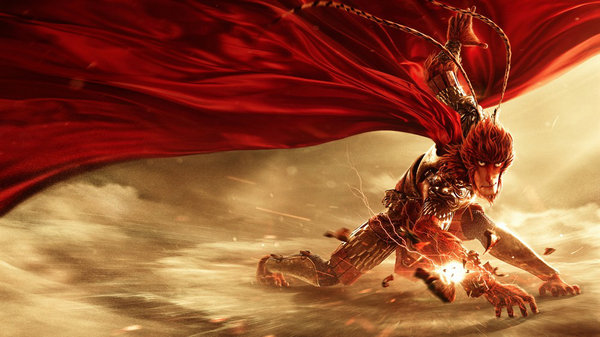 Monkey King: Hero is Back. [Photo/Mtime]
The 3D adventure "Monkey King: Hero is Back" won the gold prize for animated film at the China International Cartoon and Animation Festival on Wednesday.
The Chinese movie was an adaptation based on the classic novel "Journey to the West." After it was released in July 2015, it became the highest-grossing animated film in the country, holding that rank until Zootopia came out the following year.
The Golden Monkey King Award, bestowed by the 13th China International Cartoon and Animation Festival in Hangzhou, was co-presented by China Radio International and some leading academic institutions. It is the highest recognition in the animation industry in China.
The awards jury gave the silver prize to Oscar shortlisted film "Song of the Sea" co-produced by Ireland, Belgium, Denmark, France, and Luxembourg.
The story follows a 10-year-old Irish boy who discovers that his mute sister is a selkie who has to free faerie creatures from a Celtic goddess.
Producer Paul Young said the film is about family love and healing.
"All human beings are the same. We are the same as brothers and sisters. The story is we are trying to keep that very root in the authentic place of human emotions and use mythologies to help the story. And mainly it's about let it go when somebody left you; let it go when somebody died. We think that is universal theme."
The bronze honor in the category of animated film went to Chinese-made "Big Fish Begonia."
As for the animation series category, "Panda and Little Mole," a co-production by China and the Czech Republic, won the top award, while the first season of "Chicky Rainbow" and "Little Stubborn Red Army Soldier" grabbed silver and bronze respectively.
The festival received over a thousand entries from home and abroad for the competition, which basically included all animated films with ticket sales exceeding 50 million yuan, or about seven million USD, from the past two years. Some entries are cartoon serials published online and clicked more than 100 million times.
The festival kicked off on Wednesday and will run through May 1. Nearly 60 activities such as forums, fairs, and business events will be highlighted.