Amazon report shows Chinese keen on reading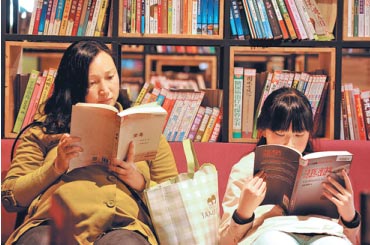 Readers take a look at new publications at a bookstore in Liupanshui city, Guizhou province, on April 23. [Photo provided to China Daily]
Amazon China, one of the largest online booksellers, released its 2017 Reading Report on April 20, which shows a continued interest in reading and some new trends among Chinese readers.
Based on 14,000 surveys and company data, Amazon reports that 56 percent of those surveyed read more than 10 books last year, continuing a trend found in previous years.
But this year it finds that 78 percent of the readers are sharing reading experiences on social media, such as on instant-messaging app WeChat, micro blog Sina Weibo, review website Douban and question-and-answer website Zhihu.
Reading books on electronic devices is a major factor that fuels the behavior of sharing. The report reveals 71 percent of those born in the 2000s choose to read books on Kindle, the company's electronic devices, whereas only 25 percent among those born in the 1950s do so.
People in Beijing, Shanghai, Guangzhou and Shenzhen are leading a trend of reading books in English, while there is an overall growth of 68 percent for its English e-books sales.
The most popular title among English e-books on Amazon China: British author J.K. Rowling's Harry Potter series.
Hot TV series and movies push people to read the original books from which the dramas are adapted.
Recent cases are In the Name of People and Three Lives Three Worlds, Ten Miles of Peach Blossoms, which helped the books of same name become best-sellers.
The TV show Chinese Poetry Competition boosted the sales of ancient poem anthologies on Amazon's e-book platform by 154 percent.
The company has been releasing its annual reading report in China ahead of World Book Day on April 23 since 2014.