Culture Insider: How did ancient people stay warm in winter?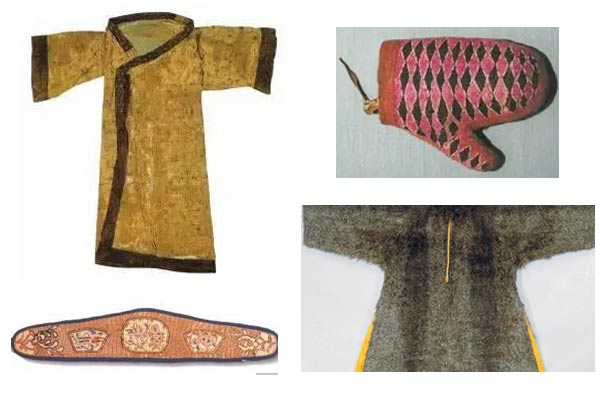 From above left, clockwise: An ancient windcoat, an embroidery diamond-pattern glove from Northern dynasties, a fox-fur overcoat worn by Emperor Qianlong of the Qing Dynasty, a head wear. [File photo]
Winter clothing made of special materials kept people warm
Song Dynasty poet Su Shi had mentioned a kind of cloth resembling a wind coat similar to today's coats in his poem. With the weather getting colder, silk floss or cotton wool was put inside clothes to make them warmer but was still light.
According to writer Shen Congwen's book on the study of Chinese ancient clothes, wool textile was used to make clothes since the Eastern Jin Dynasty (AD 317-420). Animal fur was also used to make winter clothing, such as squirrel skin and raw fox skin.
Among cultural relics unearthed from the Mawangdui Han Dynasty Tomb, different kinds of gloves were found. Gloves from the Northern dynasties (386-581) and Ming Dynasty were also unearthed. Folk women in the Ming Dynasty used to wear "patou" on their heads to keep warm. Han Dynasty men used to wear silk towels around their heads, which was filled with silk floss inside to keep warm. Yuan, Ming and Qing dynasty people also wore similar headwear.
Ancient people were smart in adapting to the environment and had solutions for the chilly winter. In addition to all their equipment, they also drank wine to keep warm, just like modern people in North China.