Culture Insider: How did ancient people stay warm in winter?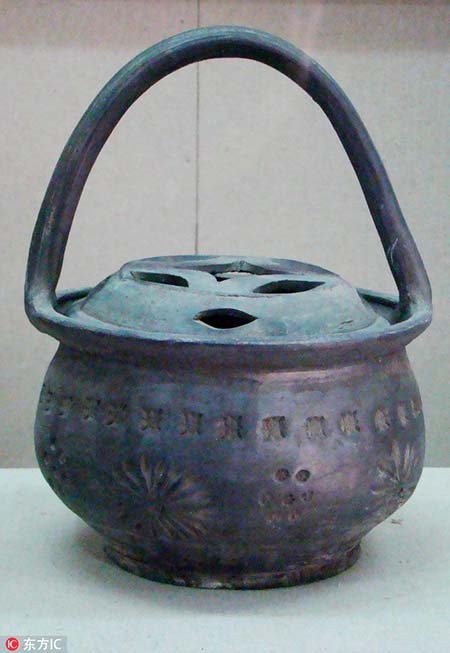 An ancient censer [Photo/IC] 
Different censers used as warmers and coal subsidies for officials
China is where coal was first discovered and used to cook and keep warm. Tang Dynasty (AD 618-907) imperial families were recorded to have used imported coal. Most families used manmade charcoal while wealthy families had more requirements on coal. The residence of Yang Guozhong, who was the prime minister of Tang Dynasty Emperor Xuanzong, used special coal in winter. The carbon dust was kneaded into a double-phoenix shape using honey, and fine sandalwood was paved at the bottom of the stove while burning, which was very clean.
Censer was often used for heat during ancient times, which was made of two parts: the bottom was a basin and the top was a hollow cover made with flower patterns. Putting coal inside, censers were used as warmers and made into different sizes for hands and feet. The censers were usually copper-made in the royal court and clay or iron-made among folk people.
Tangpozi, a pumpkin-shaped bronze kettle full of boiling water was also quite commonly used to keep warm in ancient times. It could be put under a quilt, similar to today's hot-water bottle.
All these warmers require fuel, and fuel occupied a large part of expenses in winter, so the court gave coal subsidies to officials. During the Song Dynasty (960-1279), the subsidy was paid by giving out coal, and the Ming Dynasty gave out cash instead.
Ancient royal court had a special team, called "coal soldiers", to solve the heating supply issue, taking charge of the official use of coal.