Tsui Hark and Stephen Chow join hands in a new 'Journey to the West'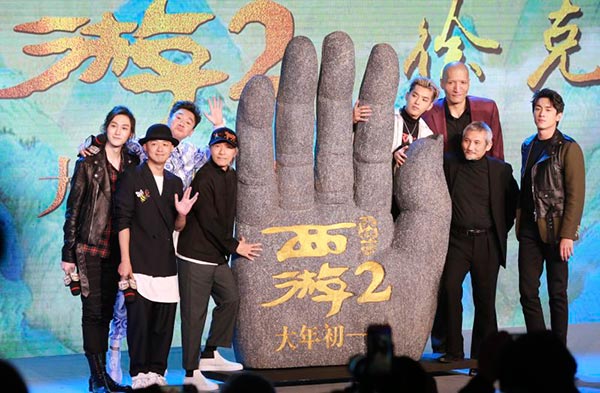 Journey to the West sequel directed by Tsui Hark and produced by Stephen Chow. [Photo by Feng Yongbin/ China Daily]
Tsui Hark and Stephen Chow, two of Hong Kong's most commercially successful directors, team up on an upcoming fantasy film.
The movie is the sequel to Chow's directorial epic Journey to the West: Conquering the Demons, one of the highest-grossing film in 2013.
The sequel will be directed by Tsui and produced by Chow, and is set to premiere on Jan 28, the first day of next year's Spring Festival.
Chow reveals that the sequel will continue the comedian style of the first installment but is also a brand-new story.
Hailed as "king of comedy", Chow says he and Tsui are both fans of the 16th-century novel Journey to the West, a fantastic tale mythologizing Tang Dynasty's monk Xuan Zang's pilgrimage to India to collect classic Buddhist volumes.
But both of them refuse to reveal more details about the film.
The major cast in the first installment, such as actors Wen Zhang and Huang Bo, will not reprise their roles.
Kris Wu and Lin Gengxin, both heartthrob actors, will respectively play the Buddhist master Tang Seng and his powerful apprentice Monkey King.
Other stars in the cast also include actress Yao Chen, known for Monster Hunt, and actor Bao Bei'er, recently famous for Lost in Hong Kong.
Related:
Stephen Chow, Tsui Hark's blockbuster releases teaser
Stephen Chow and Tsui Hark join hands in upcoming 'Monkey King'