29th Tokyo International Film Festival kicks off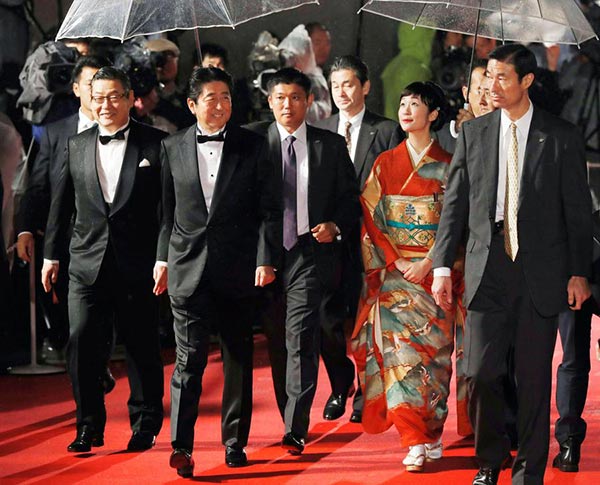 Japan's Prime Minister Shinzo Abe, (third from left), accompanied by kimono-clad Japanese actress Haru Kuroki, arrive for the opening ceremony of the Tokyo International Film Festival in Tokyo, Japan October 25, 2016. [Photo/Kyodo/via Agencies]
The 29th Tokyo International Film Festival (TIFF) kicked off Tuesday, with some 200 films to be shown in the next 10 days.
A total of 16 works will compete for the festival's top honor Tokyo Grand Prix, including two Chinese films, namely, Mr. No Problem by Chinese Mainland director Mei Feng and Shed Skin Papa by Hong Kong director Roy Szeto.
Mr. No Problem, shot in stylish black-and-white, is a three-act fable set in wartime Chongqing. Based on a 1943 short story by famous Chinese writer Lao She, the film depicts a story of a high productive farm failing to turn a profit under the facade of having no problem.
Shed Skin Papa, a comedy adapted from a Japanese play by Norihiko Tsukuda, tells the story of an entroubled and frustrated director whose elderly father suddenly regains youth. The film features famous Hong Kong stars Louis Koo and Francis Ng.
The winner of the top honor will be announced on the final day based on the decision of an international jury headed by French director and producer Jean-Jacques Beineix.
Meanwhile, films will also compete for a number of other awards, including the Best Asian Future Film Award in the Asian Future session established at the 26th TIFF.
The TIFF, which started in 1985 as Japan's first major film festival, is expected to attract tens of thousands of movie fans, students, professionals and buyers in a wide range of events.
Related:
Stephen Chow and Tsui Hark join hands in upcoming 'Monkey King'