Deleted scenes released from acclaimed film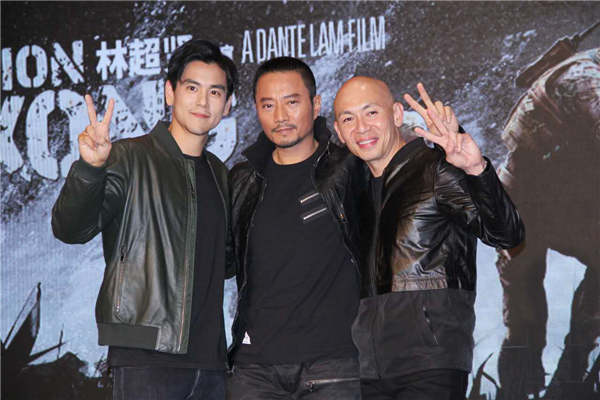 (From left to right) Eddie Peng, Zhang Hanyu and Dante Lam [Photo provided to China Daily]
Operation Mekong, the highest-grossing film during the National Day holiday, released an around 2-minute footage cut from the theater version on Sunday.
In the 107-second clip, actor Zhang Hanyu – who played an Chinese undercover cop – shoots a Thailand policeman, after he discovers it's a "test" set by the drug traffickers.
Financed by the leading studio Bona Film Group, the 124-minute film has raked in 1.08 billion yuan by Oct 23, nearly one month after the action thriller premiered on Sept 30.
Based on a true event, which saw 13 Chinese sailors slaughtered by a Myanmar drug ring in 2011, the film has received both commercial success and critically acclaim.
Dante Lam, the film's Hong Kong director, says it's a pity that he has to cut some breath-holding scenarios as being limited by the length.
He hopes the newly-released clip – which is available online – can act as compensation for fans.
Lam also reveals most of the cut clips will "be added back" to the extended DVD version, which will be sold in the near future.
Yu Dong, president of Bona, says the investors will donate some of revenues to a foundation established by China's Ministry of Publication Security.
He reveals the money will be used as subsidiaries to the 13 victims' families.
Huang Jianxin, the executive producer, said the film achieved a breakthrough in the genre of domestic police-themed thrillers, which is an encouraging phenomenon for Chinese filmmakers.
Eddie Peng, one of the lead stars, says Operation Mekong is his fourth-released film this year.
In a career spanning ten years, Peng says the undercover cop in the film has been the most challenging role for him.
He also jokes his role – who sacrifices his life to rescue a teammate – may resurrect in the possible-to-come sequel.