Culture Insider: Skincare in ancient China
2. Bath beans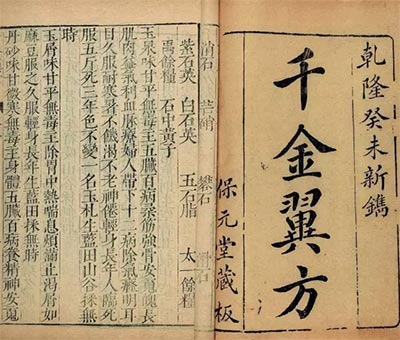 A page from Supplement to the Formulas of a Thousand Gold Worth. [File photo]
"Bath beans", a bar-shaped product consisting of soy bean powder, medicinal herbs and fragrances, were often used from the Wei Dynasty to Southern Dynasty (AD 220-589).
The isoflavone from soybeans, which have a chemical structure very similar to the female hormone estrogen, are said to be good for women. Other ingredients in the bath beans vary in complexity, depending on who to serve.
In Supplement to the Formulas of a Thousand Gold Worth, a Traditional Chinese Medicine masterpiece by doctor Sun Simiao of the Sui and Tang dynasty, tens of ingredients are included in the bath beans designated for use by nobles or officials. It is not surprising then that some of the ingredients reacted negatively with each other and caused harm, due to the lack of modern medicine and pharmaceutical analyses.
Supplement to the Formulas of a Thousand Gold Worth also documents the addition of pig pancreas to bath beans, as an embryonic form of ancient soap. The manufacturing technique of soap matured later on, in which plant ash replaced soybean paste and pig fat was added, pressed into bar-shaped products, much like soap today. The ancient soaps excelled at removing dirt from the skin without stripping its moisture completely.
Other skincare products were also made from animal fats, including facial creams and chap sticks.