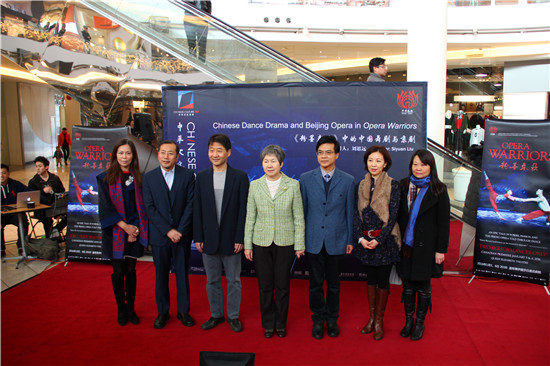 The Chinese delegation poses for a photo at Aberdeen Centre Mall in Vancouver on Jan 2. [Photo/Culturalink.gov.cn]
A lecture on Opera Warriors was held at Aberdeen Centre Mall in Vancouver on Jan 2. Forty performers from Shanxi Huajin Dance Drama Ensemble and Professor Liu Siyuan from University of British Columbia gave a presentation on Chinese dance drama and Beijing opera in Opera Warriors.
Opera Warriors is a dance drama written by celebrated writer Li Bihua (Lilian Lee). It tells a story about the adventures of three brothers in a common opera troupe from the late Qing Dynasty ( 1644-1911) to the early period of the Republic of China (1912-1949). It is considered as a moving "opera museum" due to its various opera elements.
This is the first time Opera Warriors was introduced to Vancouver as a leading program by Chinese Arts and Entertainment Group. The opera will be put on at the Queen Elizabeth Theater on Jan 5-6.
As a specially invited speaker, Professor Liu did intensive research on the Opera and related opera knowledge in Shanxi province. He also viewed the daily practice of the performers of Shanxi Huajin Dance Drama Ensemble and interviewed the leading actors and chief creators of the Opera.
Actors from the Ensemble performed many dances in the Opera at the lecture, followed by Liu's explanation on the techniques and stories in each dance.