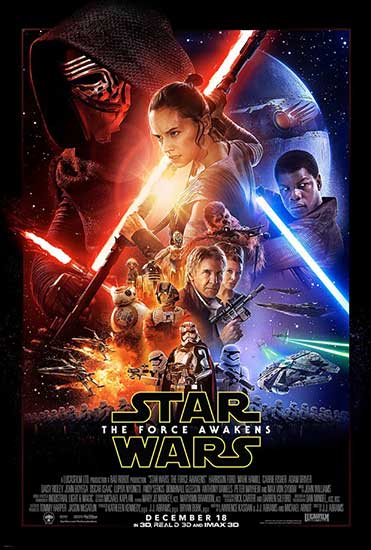 [Photo/Mtime]
This is not to say that George Lucas' creation does not have loyal Chinese fans. But you just won't be able to find one who got hooked on it in 1977. A Chinese Star Wars online forum was launched in 2001. It has 50,000 registered users, of which 10,000 are active, which, according to a recent Southern Weekend article, corresponds to the actual size of the franchise's Chinese fan base. Chen Tao, in charge of the forum, says that most Chinese fans are residents of Beijing or Shanghai, in their 30s, well educated and have English proficiency. What an entry barrier.
A global fan group, called "Fighting 501st", has 45 members from the Chinese mainland out of a worldwide base of 7,000 members. The Chinese branch was set up in 2005.
If the original six-part Star Wars had missed the Chinese boom, the new one, titled Star Wars: The Force Awakens, could reboot the franchise in the world's second-largest film market-expected to overtake the North American market in a year or two. While the new story has unsettled some long-time fans in other countries, it is perfectly positioned to win a generation of new viewers who are not emotionally moored to the original.
The results may well depend on the first week of its China release set for Saturday. If history is any indication, critical praise can get a movie only so far-specifically in the range of 500-800 million yuan ($77-$123 million) for a Hollywood sci-fi work. Interstellar grossed 755 million yuan and The Martian 586 million. Inception, arguably the biggest talk of the town for its genre, raked in 460 million in 2010, which could have easily doubled given the increase in new screens.
Star Trek, the other Hollywood sci-fi franchise with deep roots, has fared even more poorly. Star Trek Into Darkness, the 2013 movie directed by J.J. Abrams, totaled only 351 million yuan in China, hardly an uplifting figure for a Hollywood heavyweight.
Hollywood blockbusters that climbed over the billion-yuan benchmark in China have one thing in common: computer-generated spectacles galore. They are review-proof. The Transformers franchise was lambasted with more and more negative reviews, but its box-office performance simply improved with each new installment. The turnout of so-called "small-town youth", the bulk of the new movie audience base, has shown an inordinate appetite for non-stop spectacles, be they chases, explosions or intergalactic fighting. They have not shown much patience for nuances of narrative art or fine dialogues. Not yet.
All this means the existing Chinese fan base for Star Wars, even if it were 100 times larger than it is, will not be able to outperform a single episode of Tiny Times, the four-part glamour porn that attracted somewhere between 10 to 20 million teenage girls. Ideally, it should have built-in quality and interpretive material to help it hit the 500-million-yuan mark and then enough spectacles to tide it over 1 billion.
Ironically, too much back story, the kind of thing that invariably wins applause in the West, could be a turnoff for the Chinese who are yet to warm up to it. Big-budget releases too dense with cross-references and allusions, a favorite with cinephiles, have met with blank stares or even open ridicule from the public. However, the taste of Chinese film audiences could be amorphous. In a frontier atmosphere anything can happen.