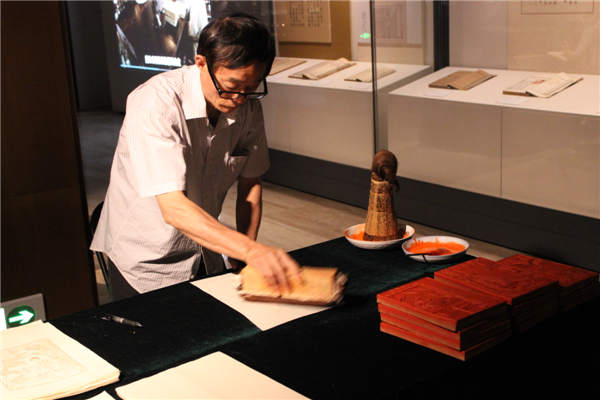 A librarian from NLC shows how to make a rubbing pieces at the museum. Photos by Wang Kaihao / China Daily
It is hard to tell whether the place is a library or a museum. Nostalgic aromas emanate from the cornucopia of yellowing books. An exhilarated visitor to the place may at first abide by the common library rule of being quiet but soon won't be able to keep from shouting its praises.
The cream of China's literary history is finally getting its chance to be enjoyed by the public as National Museum of Classic Books will soon open in Beijing.
Established by the National Library of China after two years of preparation, the institution covers 11,549 square meters and is the country's first public museum focusing on classic books.
"Ancient books are a historical witness to China's civilization throughout thousands of years," said NLC Director Han Yongjin. "Combining a museum and a library is an inevitable trend. Characters on these ancient books have to be alive. Our readers will thus get new experiences."
According to Han, the museum is home to 2.75 million editions of ancient classics (published before 1911), including metal and stone rubbings, rare books and old maps, thanks to the library's huge collection.
In addition, 800 precious artifacts will be displayed as a grand opening gift for visitors.
The first exhibition will be on display for three months after it receiving group visitors on Aug 1.
Individual visitors will be allowed in after Sept 9, the 105th anniversary of NLC's founding.
"It's difficult to choose 800 pieces from the huge collection," said Chen Hongyan, deputy head of the ancient books department at NLC and also the curator of the opening exhibition.