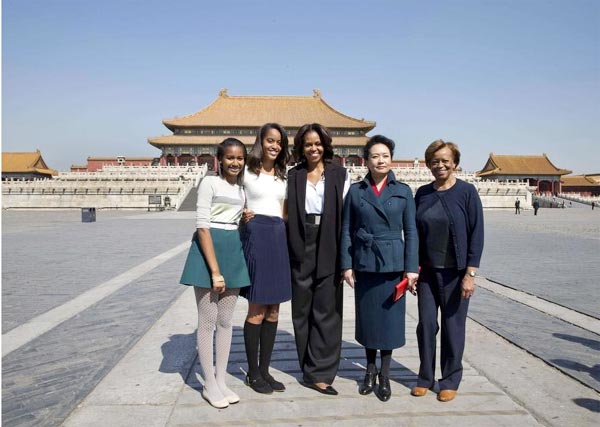 US first lady Michelle Obama (C), her daughters Sasha (L) and Malia (2nd L) and her mother Marian Robinson (R) pose with Peng Liyuan, wife of Chinese President Xi Jinping, as they visit Forbidden City in Beijing March 21, 2014. [Photo/Agencies]
Amateur photographer Wang Yipeng has been taking pictures of the Forbidden City for many years. Architecture and sunsets have been his most frequent subjects.
He never expected an opportunity like the one he got on Friday: US first lady Michelle Obama's visit to the Forbidden City in the company of Peng Liyuan, wife of President Xi Jinping.
As the first visitor on Friday, Wang entered the palace at 8:30 am. He planned a two-hour shoot as usual, but soon changed his mind as he heard the two first ladies were on their way.
"This was such a rare opportunity so I decided to wait an hour longer," Wang said, showing his pictures of Peng and Obama stepping side by side into the Palace of Heavenly Purity.
The visit took place on a sunny, warm day that was perfect for a stroll around the palace. Obama, along with her daughters, Sasha and Malia, and her mother, Marian Robinson, walked with Peng along the central line of the palace and toured some of the most significant venues, including the Hall of Supreme Harmony, the Palace of Heavenly Purity and the Palace of Earthly Tranquility.
They were on foot throughout the tour as the museum has ruled out motor vehicles inside to ensure the safety of the visitors and the many cultural heritage artifacts and buildings.
"Vehicles must stop outside so that we don't disturb the regular visitors," museum director Shan Jixiang said during a meeting with the media in February.
The same rule applied to other visiting political figures, including French President Francois Hollande, German Chancellor Angela Merkel and Indian Prime Minister Manmohan Singh.
The Forbidden City, which houses the Palace Museum, served as the imperial palace for the Ming Dynasty (1368-1644) and Qing Dynasty (1644-1911). With 980 buildings and an area of 720,000 square meters, it is the largest complex of ancient wooden structures in the world and was listed as a World Heritage Site in 1987.
Li Xiaokun contributed to this story.
Special: US first lady visits China