Newest submersible enters into service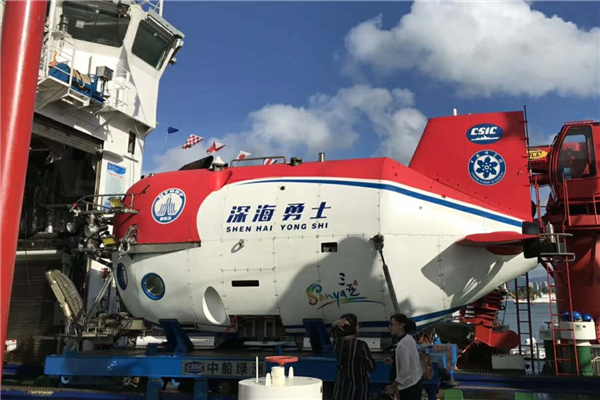 China's manned submersible Shenhai Yongshi returns to Sanya, Hainan province, in October, after completing a mission to test its capabilities. [Sha Xiaofeng/For China Daily]
China's newest manned submersible, Shenhai Yongshi, or Deep-Sea Warrior, will be formally put into service on Friday, according to China Shipbuilding Industry Corp, developer of the advanced craft.
Shenhai Yongshi will be officially delivered to the Chinese Academy of Sciences in Sanya, Hainan province, which is its home port. Before the delivery, the submersible underwent 28 diving tests while on a 49-day expedition with its mother ship, Tansuo 1, from mid-August to early October.
It reached a depth of 4,500 meters during the tests, according to a news release from the State-owned shipbuilder. After it was ferried back to Sanya on Oct 3, engineers conducted thorough checks, the release said.
Development of the submersible started in 2009, led by the company's 702nd Institute in Wuxi, Jiangsu province.
Du Gang, deputy general manager of CSIC, was quoted in the release as saying that designers overcame a number of difficulties in overall design, including the thick titanium-alloy cabin, deep-sea buoyancy material and low-noise deepsea propeller.
All of the key components of Shenhai Yongshi were developed by Chinese engineers, he said.
Du noted the new submersible's development was successful because it was based on technologies and experience from Jiaolong, China's first manned deep-sea submersible.
Jiaolong was developed by Chinese designers starting in 2002. It entered service in 2010, making China the fifth country in the world having deep-sea exploration technology after the United States, France, Russia and Japan.
During a test dive in June 2012, Jiaolong reached its deepest depth - 7,062 meters - in the Mariana Trench south of Japan.
On the most recent mission, which lasted 138 days from February to June, Jiaolong conducted 30 dives in the South China Sea and the northwestern Indian and northwestern Pacific oceans to make scientific investigations and collect samples. It is now midway through a yearlong overhaul and technical upgrade at the National Deep-Sea Base in Qingdao, Shandong province.
China plans to build a manned deep-sea station that will start operating around 2030, according to Hu Xuedong, deputy director of the State Oceanic Administration's deep sea department.
zhaolei@chinadaily.com.cn

Editor's picks