Test kits on sale in campus vending machines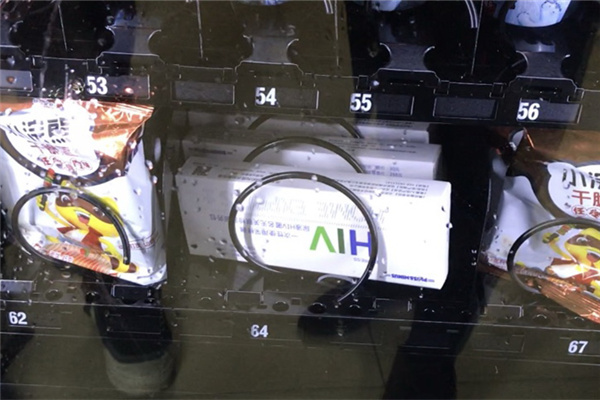 HIV test kits are available next to snacks in a machine on the campus of Tsinghua University in Beijing. [Xin Wen/China Daily]
Health authorities are stocking food vending machines with HIV testing kits at universities in Beijing to help combat a rise of HIV/AIDS among young people, particularly college students.
To date, 11 universities in Haidian district - home to 79 percent of the capital's students - have installed 22 vending machines selling HIV testing kits, and two more are expected to join them by the end of the year.
The number of new cases of HIV infection has been rising quickly, with most infections occurring in men who have sex with other men, according to the Haidian District Center for Disease Control and Prevention.
The number of students aged 15 to 24 who were infected by HIV grew 5.7 percent in 2008. In 2014 the number of students infected increased by 16.5 percent, according to the National Health and Family Planning Commission.
The market price of the test kit is 298 yuan ($45), but the vending machines on campus sell them for 30 yuan.
A vending machine in a student service building has attracted the attention of Tsinghua University students since it was installed, according to Jin Mingxing, a 24-year-old hair stylist from Shenyang, Liaoning province, who works in a salon near the machine.
"In the first three days, 10 test kits in the machine sold quickly," Jin said. "Foreigners bought most of those kits, mainly in the daytime."
A urine sampling instrument with instructions is included in the kit. A hole in the vending machine collects the sticks for inspection. Anonymous testers can check the results online in 10 days using a unique code.
Fifty-eight test kits were sold from Sept 27 to Nov 13, with all negative results, according to the Haidian CDC.
The vending machines are mainly installed in front of dormitories for males, the center added.
Liang Jiahua, a freshman majoring in mechanical engineering at Tsinghua, said he thought it was a good way to prevent HIV transmission.
"I knew some basic information about the prevention and transmission of HIV infection from a lecture about AIDS during military training when the semester began," the 18-year-old said.
He said the service helps at-risk students voluntarily check their condition and seek solutions.
James Smith, an exchange student at Tsinghua from the University of South Carolina in the United States, said the HIV test kit is useful, especially in countries where people might have less awareness of HIV knowledge.
"It's a good thing to have access to it, especially cheap access," he said, adding that "you can prevent its spread and have a way to treat it".
Wang Xiaodong and Jiang Chenglong contributed to this story.
xinwen@chinadaily.com.cn

Editor's picks