A winter's tale of loss and learning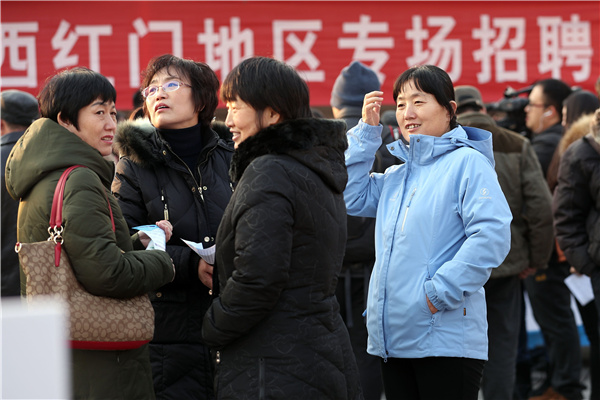 Job seekers chat during a job fair in Xihongmen township organized for workers left umemployed due to factory closures. [Zou Hong/China Daily]
He estimated that Xinjian'er is home to 2,000 residents with Beijing hukou, or permanent residency, as well as 20,000 to 30,000 people from elsewhere in China.
"Some were told on Nov 21 to move out by Nov 22. How can that be possible? No one in Beijing deserves to be treated like that," he added.
As many of the people who live in unsafe and cheap apartments are migrant workers, some began to speculate the government's real intention was to force the "low-end workforce" out of Beijing.
The Beijing Work Safety Committee denied the accusation, saying it has never used the term. Yet the authority did concede that the enforcement measures in some areas had been "simple and blunt" because individual officials were eager to see quick results.
Yuan said he doesn't believe the evictions are aimed at forcing out migrant workers like himself, but the government should be more considerate when implementing such campaigns, as they affect so many people.
Fair treatment
In the face of a public outcry, city authorities have attempted to rectify the problems with the safety campaign. On Monday, Cai, the capital's Party chief, urged officials at all levels to carry out their duties in eliminating safety hazards with "humanistic care" and by using "better methods", while making it clear that those affected should be given support.
"I've heard the government will give us more time to empty the workshop, but we've already removed all our machines and shipped them out, so I don't know whether I should be feeling happy or sad," a worker surnamed Hu at Fadiluwang clothes factory in Xinjian'er said on Wednesday.
"All I know is that tomorrow I'm moving to Hebei, where the new workshop will be located."
A job fair was also held in Xihongmen on Monday for those people who lost their jobs when their employers were told to shut down unsafe factories or warehouses.
More fairs are being planned, according to Chen Yongqiang, deputy head of the township government.
For migrant workers who have decided to try their luck outside Beijing, the government will provide temporary accommodation as well as train or bus tickets to their intended destination, he added.

Editor's picks