One-armed violinist prepares to take a bow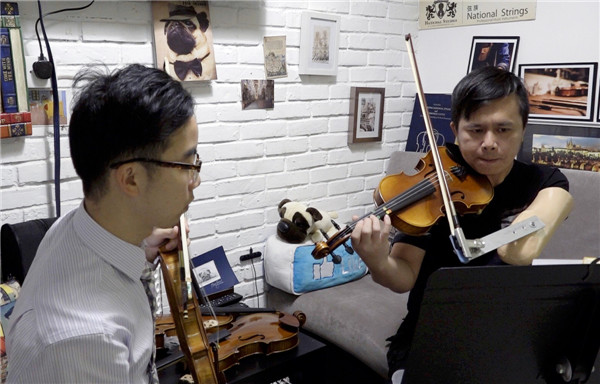 Foley Lam Ho-yin (left) has been teaching Sham Hang-fu to play the violin this year. Sham's left arm was amputated after a traffic accident 14 years ago. DARA WANG/CHINA DAILY
A man who lost a limb after a traffic accident is learning to play the instrument in a bid to overcome his disability and regain control of his life, as Dara Wang reports from Hong Kong.
A man with large round eyes bends to his instrument. The piece of sheet metal that substitutes for his missing arm draws the bow of his violin back and forth across the strings, emitting flashes of sunlight with each stroke. Thirty-six-year old Sham Hang-fu's eyes are riveted on the strings, where the fingers of his right hand dance and provide clear articulation of the notes.
The Hong Kong resident, who is busy rehearsing for two recitals he and his teacher will give in front of thousands of people at media events in the city, has overcome a huge physical disability to play with one hand. However, he is convinced that he would never have taken up the instrument if he had remained able-bodied.
"The amputation 14 years ago dumped my life into the bottom of a well. I'd had enough of constraints and wanted to take a breath of fresh air from the 'outside'," he said. The violin is a ladder by which he escapes his plight and pursues a higher dream.
Three years ago, Sham knew little about playing the violin, and there was no one to ask for help. He spent a year looking for a violin suitable for exclusively right-hand use and building a prosthetic arm to hold the bow.
Sham found a crude prosthetic limb at a public hospital, along with a prosthetic socket to attach it to the stump of his arm. He attached a steel rod to the other end of the prosthesis, so he would be able to "hold" a violin bow.
The joints of the makeshift prosthesis are not limber. Sometimes they stick, requiring more exertion to draw the bow. The socket doesn't fit comfortably against Sham's stump, either, which creates friction as he plays. That means the prosthesis needs to be re-dressed repeatedly.
The setbacks have never dimmed his determination to play the violin. When he plays on the street, people are drawn to him, and they don't offer sympathy but admiration, he said.

Editor's picks