Panda pair released into wild in Sichuan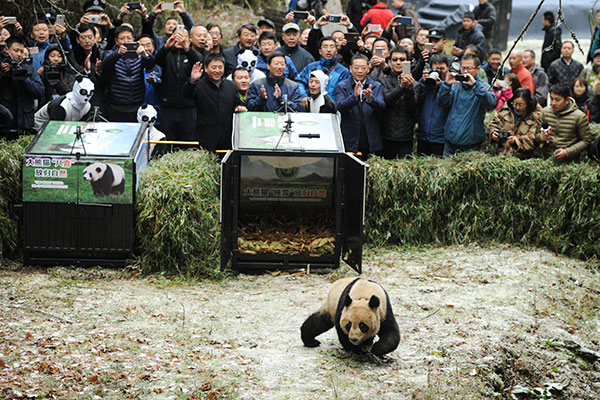 Ying Xue, a female panda, is released into the wild at the Liziping Nature Reserve on Thursday. A male named Ba Xi also was released. HE HAIYANG/FOR CHINA DAILY
Young pandas Ying Xue and Ba Xi were released into the wild at the Liziping Nature Reserve in Shimian county, Sichuan province, on Thursday, marking the second time that a pair of pandas have been released at the same time.
The cages were opened at 11:10 am by Li Chunliang, deputy director of the State Forestry Administration; Yan Weidong, deputy secretary-general of the Sichuan provincial government; and Han Xu, deputy director of the Bureau of Fisheries of the Ministry of Agriculture.
The captive-born pair, a male and female, both over 2 years old, are from the China Conservation and Research Center for the Giant Panda in Sichuan.
They were released after more than two years of training for survival in the wild. The pandas can look for food and water independently and avoid danger in the wild, said Zhang Hemin, the center's executive director.
On Oct 20 last year, two female pandas from the center, aged 2 and 3, were released in Liziping. GPS tags on their necks show both are faring well, Zhang said. The pair released on Thursday also will be tracked.
Releasing captive wild animals is a key means of saving endangered species. China has successfully released more than 20 wild animal species, such as the ibis, Yangtze alligator, elk and wild horse, Li said.
It is much more difficult to successfully release pandas because of their difficulty in reproducing, rigid diets and habitat fragmentation. The State Forestry Administration has organized scientists to conduct long-term research, and they have had substantial achievements in training pandas for survival, he said.
Starting in 2006, they have released seven pandas, not including the pair on Thursday. Two died, but five are alive in the wild. All were from Zhang's center.
China has built 67 nature reserves, effectively protecting 60 percent of its panda habitats and more than 70 percent of its wild pandas. Its scientists have solved panda breeding problems. As a result, it is home to 518 captive pandas and has developed a self-sustaining panda population, laying a solid foundation for rejuvenating the wild population, Zhang said.

Editor's picks