Chengdu-Xi'an train link promotes travel, tourism
Time slashed by more than half; cultural sites to enjoy the benefits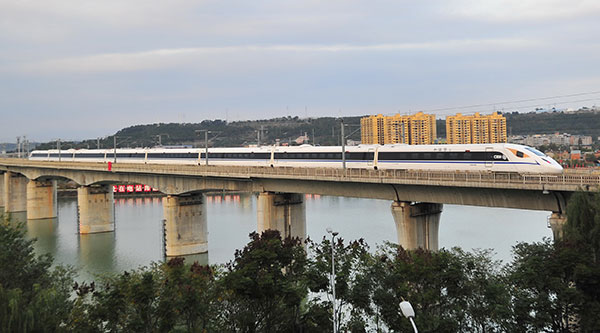 A bullet train passes through Mianyang, Sichuan province, during a trial run on Tuesday. The Xi'an-Chengdu High-Speed Railway is expected to formally open next week. CAO NING/FOR CHINA DAILY
The trial run of a bullet train from Chengdu, Sichuan province, to Xi'an in neighboring Shaanxi province took about four hours on Wednesday morning, cutting travel time between the cities by about six hours.
The Xi'an-Chengdu High-Speed Railway is expected to formally open on Nov 30, said Xia Yongjing, an information officer for China Railway Chengdu Group.
It will run on a daily basis, she said, and is designed for speeds of up to 250 kilometers per hour.
The train passes through Deyang, Mianyang and Guangyuan in Sichuan, and Ningqiang and Hanzhong in Shaanxi.
Li Lin, a travel agency manager in Chengdu, said the opening of the railway is expected to give a shot in the arm to the tourism sector.
"Long before the trial run of the railway, quite a few people in Sichuan had told me they wanted to visit Xi'an after the railway's formal opening to see the Terracotta Warriors and other sites of historical importance such as the Greater Wild Goose Pagoda and Daming Palace, and taste the famous mutton and bread soup," Li said.
Xi'an, the capital of 13 feudal dynasties, was China's political, economic and cultural center for more than 1,100 years. It is known worldwide for its Terracotta Warriors.
Guangyuan is less well-known but has the Shu Path.
Shu was the ancient name of Sichuan. The path is one of the world's oldest land transport systems, with the most complicated landforms, most dangerous roads and most abundant historical ruins, according to Zhang Hu, chief the Sichuan World Heritage Application Office of the provincial housing and development agency.
In 2015, Sichuan began preparing an application for the path to be included on the UNESCO World Natural and Cultural Heritage List. In March, the application was sent to the Ministry of Housing and Urban-Rural Development for review.
Construction of the path linking Sichuan and Shaanxi started around 316 BC. It was built on mountains so precipitous that Li Bai (701-762), one of China's eminent poets, wrote: "Traveling on the Shu Path is as difficult as ascending to heaven."

Editor's picks