Climate change set to rock airlines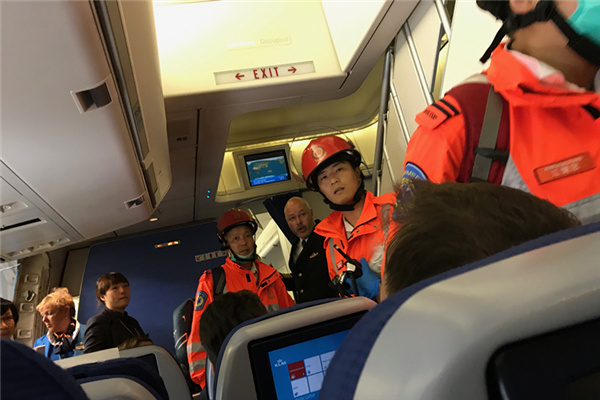 Paramedics race aboard the plane to tend to passengers and crew members who were injured by the clear-air turbulence.FUNG WING-HO/CHINA DAILY
Challenges in the air
Hong Kong encounters an average 15 days of clear-air turbulence annually. In the past two years, the Hong Kong Observatory has seen a rise in reports of severe cases.
"Severe CAT events have risen from just one, to now, two days per year," said Shun Chiming, the observatory's director, in an exclusive interview with China Daily.
He said it's hard to attribute the rise in severe incidents to global warming, as there are many other factors at play. However, he noted that more cases have been reported recently, especially in the upper layers of air to the northeast of Hong Kong, where jet streams are relatively rougher.
Usually, Hong Kong experiences the phenomenon from December to February, when the difference between polar and tropical temperatures is greatest and the jet stream-the driving force of the turbulence-is most violent.
West to east jet streams are driven by the disparity in temperatures between the poles and the tropics, because temperatures in polar regions are naturally much lower than in the tropics. That's partly because the sun's rays have to travel farther to reach the poles, in comparison with the equator, according to Williams of Reading University.
"However, the atmosphere is not warmed uniformly in response to our CO2 emissions. At cruising altitudes of 30,000 to 40,000 feet (9 to 12 kilometers), the tropics are warming faster than the poles. This effect is increasing the north-south temperature difference, which is what drives the jet stream. That will make jet streams more sheared in response and lead to more turbulence," he said.
In addition, many pilots point out that the topographical conditions at Hong Kong International Airport create conditions that leave aircraft more prone to turbulence. The airport is perched on reclaimed land in the north of mountainous Lantau Island and southwest of the hilly New Territories West. High-velocity winds can shoot out suddenly from between mountain gaps, creating even more powerful wind shear-a sudden change in wind direction or velocity-that can produce changes in headwinds or tailwinds encountered by planes. A strong wind shear can blow a plane off it's intended flight path, upward, downward or sideways.
About 70 percent of all reported cases of wind shear and turbulence at the airport come from the strong winds that blow across the hills of Lantau. One former pilot in Hong Kong said the prevailing conditions make the airport a "not pleasant" place for liftoff and touchdown.
Nigel Leung, founder of the Aero Institute and a former first officer for Dragon Airlines, now Cathay Dragon, in Hong Kong, has 5,200 hours of flight time. He experienced being hit by a violent downdraft when leaving the city's airport in 2010. Leung's airbus was jolted hard as if hit by a giant fist that came out of a large pocket of storm cloud above. Crew and passengers were nearly ejected from their seats, but seat belts saved them from injury.
Williams said there is no way to avoid turbulence. "A lot of the turbulence encountered by planes in tropical regions, like Hong Kong, will be convective turbulence from storms," he said, noting that storms gain energy from the high temperatures and rise to altitudes higher than planes can achieve.
Clear-air turbulence is believed to be an added threat to aviators flying in and out of Hong Kong. Leung said pilots are used to wind shear close to the airport, but the turbulence is invisible.
"We have no choice but to bite the bullet and endure the violent jarring," he said.