Climate change set to rock airlines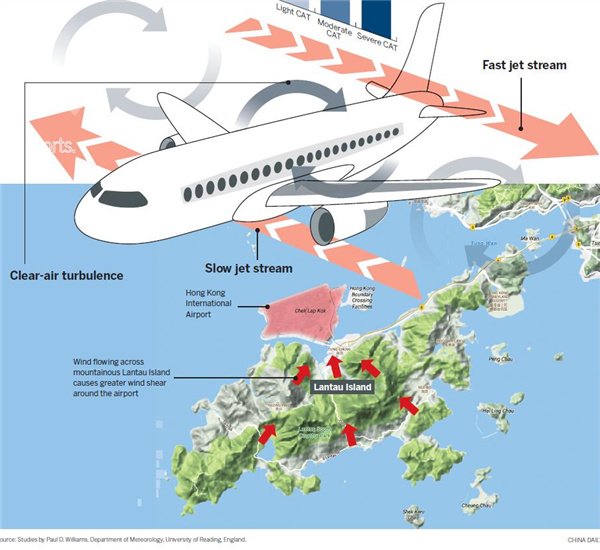 Click to see larger picture
As the Boeing 747 plummeted for what seemed about 300-plus meters, Fung Wing-ho seized the armrests as the shock lifted him out of his seat. Only a few rapid heartbeats later, a second, more violent jolt hit the plane and Fung saw two fellow passengers sail aloft, crashing into the ceiling of the fuselage. Passengers shrieked. In the galley, a flight attendant thrown to the floor howled in pain.
"The second jolt was the most ravaging one. It just threw us into chaos," said Fung, a 36-year-old passenger on the 747.
On June 4, Flight KL887 from Amsterdam, operated by Royal Dutch KLM, had made smooth progress. Then, 30 minutes before it was scheduled to land at Hong Kong International Airport, it hit what aviation experts suspect to be clear-air turbulence. The captain was announcing their imminent arrival when a sharp jolt cut him off mid-sentence.
It was a sunny Sunday morning, and no one registered the turbulence in their path-not the pilots or the air traffic controllers in Hong Kong because clear-air turbulence cannot be detected by radar. It's invisible, yet every year it is one of the leading causes of injuries to airline passengers and crew, hitting planes like a slapping hand.
Fung's seat belt was unfastened and it was sheer luck that he was spared the sudden falls that befell some of his fellow passengers.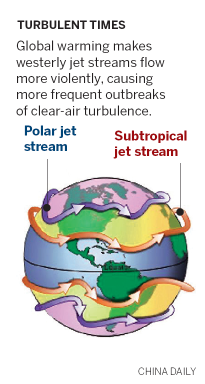 When the plane landed safely at Terminal 1, paramedics sprinted aboard to treat six passengers who had not kept their seat belts buckled and had been thrown out of their seats, sustaining severe bruising, and two crew members who had minor injuries, according to a statement issued by KLM.
Clear-air turbulence, "the invisible troublemaker" as meteorologists call it, happens when two jet streams collide, with one moving faster than the other, in a cloudless sky. Experts predict that the phenomenon could show up with greater frequency as a result of climate change, caused by a rise in emissions of greenhouse gases. That means air passengers and crews are in for bumpier rides that pose a greater risk of injury.
The World Health Organization predicts that climate change, aka global warming, will kill a wide range of plant and animal species as a direct result of temperature-related illnesses such as malaria. It's also been associated with a recent decline in levels of male fertility, and a rise in aggressive behavior in humans, according to a growing number of studies published by the National Center for Biotechnology Information, part of the United States National Library of Medicine. In addition, the phenomenon is expected to play a major role in the "sixth great extinction", the ongoing, irreparable loss of species which is largely due to human activities.
Meanwhile, global warming also presents a growing peril for air travelers, according to Paul D. Williams, author of a meteorological study published in Advances in Atmospheric Sciences, a scientific journal, in April. Williams is a professor in the department of meteorology at the University of Reading in England.
He said he has discovered a causal link between clear-air turbulence and carbon dioxide in the atmosphere, and higher concentrations of atmospheric CO2 are linked directly to the growing number of clear-air turbulence incidents.
He used climate model simulations to assess the occurrence of the turbulence in response to a doubling of CO2 concentrations, from a preindustrial value of 280 parts per million to 560 ppm. The model predicted that light clear-air turbulence will rise by 59 percent, moderate by 94 percent and severe by 149 percent, leading to life-threatening conditions by the end of the century.
Aircraft passengers and crews experiencing light to moderate turbulence are jostled a little, but severe clear-air turbulence can throw an aircraft out of control, while objects and people are tossed around the cabin.
Now, the CO2 concentration around the globe is estimated to be about 400 ppm. Current projections say that will reach 500-1,000 ppm by the end of the century, which is likely to make high-altitude travel less stable.