Panama dedicate its new embassys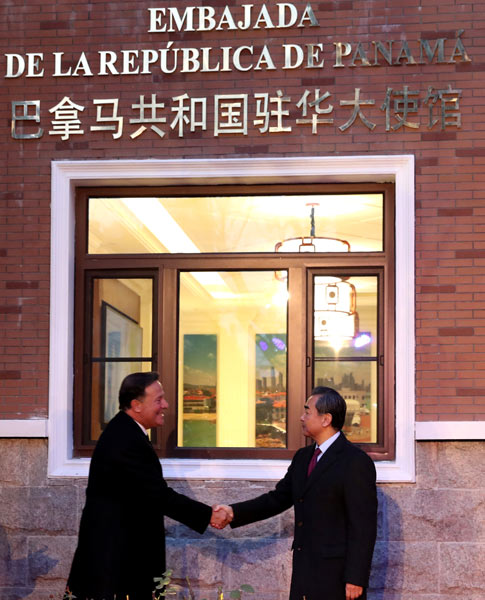 Foreign Minister Wang Yi and visiting Panamanian President Juan Carlos Varela shake hands at the inauguration ceremony of Panama's embassy in Beijing on Thursday. [Photo by Zou Hong/China Daily]
China and Panama plan to sign nearly 20 cooperative documents on Friday as officials of the two countries saw Panama's embassy inaugurated in Beijing.
Foreign Minister Wang Yi and visiting Panamanian President Juan Carlos Varela disclosed the anticipated number of deals to be signed when they jointly opened the embassy in downtown Beijing on Thursday afternoon.
Varela arrived in the capital earlier on Thursday for a state visit, which continues through Wednesday, at a time officials from both sides have said the 5-month-old diplomatic relationship is developing rapidly.
Wang congratulated Varela on realizing his decadelong dream of building diplomatic ties with China, and said his decision to forge ties with China fully serves the interests of his country and people and will withstand the test of time.
President Xi Jinping and Varela will have a historic meeting on Friday, and the two sides will sign the cooperative pacts, taking the ties to a new stage of comprehensive cooperation, Wang said.
The diplomatic ties were established in June after Panama cut ties with Taiwan and acknowledged the one-China policy the same day.
China's embassy in Panama was inaugurated in September.
Varela said he appreciated China's hospitality and added that his visit is historic as he becomes Panama's first president to visit China.
Panama will unswervingly honor the one-China policy and develop a friendly and cooperative relationship with China, Varela said.
As the countries trust and respect each other and seek mutual benefit and cooperation, their ties are expected to be fruitful, Varela said.
Francisco Carlo Escobar, Panama's first ambassador to China, said establishing an embassy in a major world economy brings his country enormous opportunities as leaders work to inject dynamism into their economy.
The Panamanian leader also is set to visit Shanghai, Chinese Ambassador to Panama Wei Qiang told the Xinhua News Agency on Wednesday.
China set up an office of commercial development in Panama in 1996, and they have maintained cooperation in various fields.

Editor's picks