Others find value in nation's example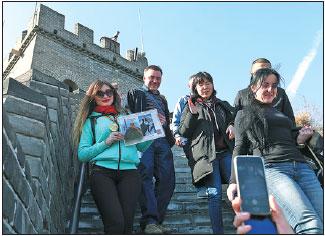 Foreign civil servants, who are taking a course at the Chinese Academy of Governance, visit the Juyongguan section of the Great Wall in Beijing on Wednesday.Wang Zhuangfei / China Daily
China's new development strategies outlined by General Secretary Xi Jinping at the 19th National Congress of the Communist Party of China can offer lessons for governments of other countries, according to foreign civil servants studying in China.
"The report is a tool for socialists around the world," Zamira Marin Triana, vice-minister of Cuba's Ministry of Labor and Social Security, said on Tuesday. "Cuba needs to learn from the experiences and lessons of other countries, especially what has happened and what is going on in China."
She is among 192 civil servants from 35 countries who have been studying China's system of governance at the Chinese Academy of Governance in Beijing since Nov 2.
The training program includes courses covering a series of basic topics, such as China's political and finance systems, as well as hot topics including the Belt and Road Initiative and the new strategies outlined in the report delivered by Xi at the congress on Oct 18.
Marin Triana made the remarks after taking part in a seminar about the report on Tuesday.
"The report reminds me that the government's focus should always be the fulfillment of the ever-growing needs of its people, which is also the goal of the Cuban government," she said.
Texious Masoamphambe, Chief Resident Magistrate of Malawi judiciary, said: "For many countries, China's achievements are unbelievable. Such achievements have made African countries see new possibilities in their own development."
African people are eager to learn more about China, and the training program has provided a great opportunity, he said, adding that he has already learned about China's basic legal framework, which interests him most.
Jacobo Dominguez Gudini, a consultant for the Organization of American States, said, "I want to know more about China's anti-corruption measures and system. It will be helpful for Latin American countries, where the battle against corruption is tough."
So far more than 8,500 foreign civil servants from 159 countries have taken part in training programs organized by the Chinese Academy of Governance. The programs have helped trainees understand the real China, said Yang Keqin, deputy director of the academy.
Yang said he hopes foreign civil servants can provide valuable suggestions on China's development and share what they have learned about China with people back home.

Editor's picks