Railways to speed up Singles Day deliveries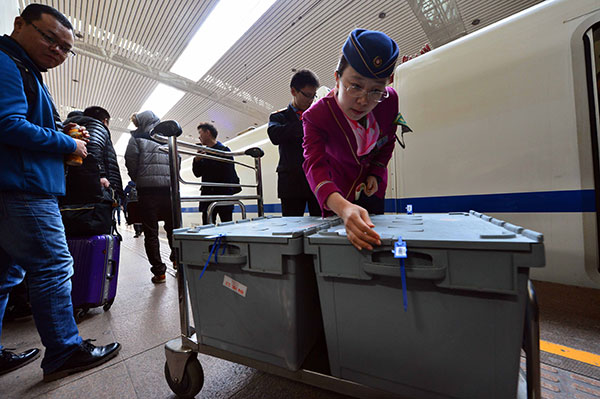 A train conductor checks cargo boxes that are being transported by bullet train in Jinan, Shandong province, during last November's Singles Day shopping spree. [Photo/Xinhua]
China's railway department will start a new service to speed up the movement of goods during the upcoming Singles Day online shopping spree, in answer to the growing demand for logistics services.
From Nov 11 to 20, the railway department will provide "storage to storage" service to e-commerce businesses and express delivery companies, according to a statement released by China Railway Corp, the national railway operator, on Monday.
Railways usually provide "station to station" service, transporting goods from one station to another.
Singles Day, which falls on Nov 11, is the world's largest online shopping festival. Last year, e-commerce giant Alibaba's retail platform, Tmall, received 657 million orders on Nov 11 worth a total of more than 120 billion yuan ($17.6 billion).
The online shopping spree challenges delivery services. Customers have complained in the past that the deliveries were delayed.
To answer the growing demand, a fast service will be provided by the Beijing-Shanghai high-speed railway this year, with a promise to deliver goods to customers in 10 hours.
The service will rely on the "Fuxing" bullet train that runs 350 kilometers per hour and has reduced travel time between Beijing and Shanghai to four and a half hours. The company called the service the fastest express delivery service in China.
A bullet train on the Lanzhou-Xinjiang railway will form a long-term partnership with e-commerce and delivery companies to transport goods, the company said.
CRC will also set up special storage spaces to facilitate transport services for the shopping spree.
The company launched the service for Singles Day last year. Some 170 bullet trains were used for express deliveries from Nov 11 to 20 last year, stopping at 505 cities. As with last year, services including same-day arrival, next morning arrival and arrival in one day will be offered.
Last year, the railway department carried out bullet train express deliveries in cities having stops along the high-speed lines.
Across China, 505 cities have stops along high-speed railways, including big cities and rural areas.
China has the world's most extensive high-speed rail network, with 22,000 km of track currently in use.
The total length of China's high-speed rail will reach 38,000 km by 2025, and 45,000 km by 2030, according to a plan released by the National Development and Reform Commission in July last year.

Editor's picks