Ministry: Schools should integrate social activities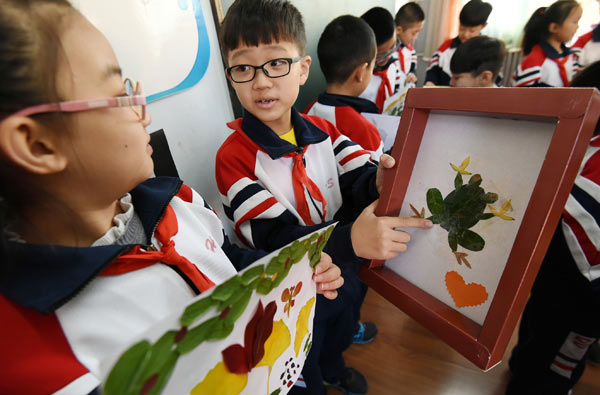 Students at a primary school in Handan, Hebei province, exchange views on their paintings made of leaves on Monday ahead of World Thrift Day, which falls on Oct 31.[Photo/China Daily]
Guidelines lay out average time to be spent broadening children's knowledge
Social activities will be further integrated into China's education system, under guidelines issued by the Ministry of Education.
The ministry released the guidelines on Monday, asking primary, middle and high schools nationwide to design social activities in a better way and make the activities part of the school curricula.
Under the guidelines, social activities should be interdisciplinary and closely connected with students' lives and personal development. Students should be allowed to do research on their own and gain firsthand knowledge and experience.
The ministry said the curriculum could be carried out in diverse forms, citing an example of a student engaged in both designing and making things - such as with animation, programming or pottery.
It also suggested vocational experience as a learning track, suggesting that by observing or working at different jobs, students would come to know their strengths and specific interests and therefore could better set their own goals and make plans for future careers.
Schools were encouraged to design their own programs but should follow some basic rules. For example, the curriculum should aim at nurturing students' abilities in analyzing and solving problems, raising awareness of social responsibility and fostering a spirit of innovation so that students could better adapt to life and meet challenges.
"When designing and carrying out such curricula, schools should pay enough attention to guiding students' knowledge of all subjects, and should not replace the curriculum with the activities of a single subject," the ministry said in the guidelines.
It added that the way such curricula are arranged is flexible, but first-and second-grade students in primary school must, on average, have at least one such lesson each week. Grades three to six and junior middle schools should arrange at least two such lessons per week.
Tian Huisheng, director of the National Institute of Education Sciences, said the education ministry first required schools to bring social activities into the school curricula in a document released in 2001. However, many schools across the country didn't realize the significance of these activities and treated them as a supplement to other subjects taught at school.
"The guidelines released on Monday identify social activities as an independent curriculum that is equally as important as other curricula at school and will be very helpful in improving students' sense of social responsibility and practical abilities," he said.
Cheng Shangrong, a researcher at the Academy of Educational Sciences in Jiangsu province, said the guidelines will play a key role in leading students to study in a practical and interdisciplinary way while nurturing an innovative spirit.
"But teachers might face many challenges in designing and carrying out the curriculum," he said, adding that sufficient support and training should be provided to teachers to ensure that they can do a good job.

Editor's picks