PLA to be world-class force by 2050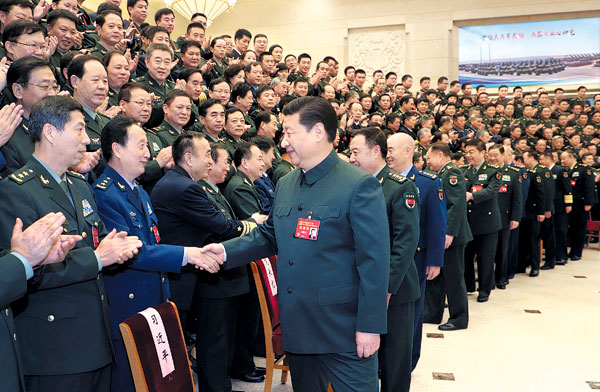 Xi Jinping,general secretary of the Communist Party of China Central Committee,meets top-ranking officers on Thursday in his first military gathering since he was re-elected chairman of the CPC Central Military Commission one day earlier. LI GANG / XINHUA
Congress's map 'very important' to modernize nation's defense
Xi Jinping, chairman of the Central Military Commission, told the Chinese military on Thursday to follow the road maps set for it at the 19th National Congress of the Communist Party of China.
"The 19th CPC National Congress … was very important to the modernization efforts for the national defense and the People's Liberation Army in the new era," Xi told top-ranking officers in his first military meeting after he was re-elected chairman of the CPC Central Military Commission on Wednesday. 
Xi said as socialism with Chinese characteristics has entered a new era, the building of the national defense and the military has also opened a new chapter. He said the military should make all-out efforts to become a world-class force by 2050 and to strive for the realization of the great rejuvenation of the Chinese nation. 
In his report to the 19th CPC National Congress, Xi, also general secretary of the CPC Central Committee and the nation's president, pledged to make sure that by 2020, the PLA will basically achieve its mechanization, make big strides in informatization, and gain substantial improvement in strategic capabilities. He also set a midterm goal for the Chinese military — to turn itself into a modernized power by 2035 — as well as a long-term one — to become a top-tier military by 2050. 
The weeklong congress formed the major political judgment that socialism with Chinese characteristics has entered a new era. Representing the Party's more than 89 million members, it elected the 19th CPC Central Committee and a new Central Commission for Discipline In­spection. A new Central Military Commission was elected the next day by the first plenary session of the 19th CPC Central Committee.
Xi said at the meeting on Thursday that over the past five years, the Central Military Commission rolled out a series of significant principles and measures and pushed forward a host of key endeavors, revitalizing the Chinese military. 
In coming days, the military must study and implement missions set by the Party congress and will adopt the Party's theories to improve its work, he said. 
He ordered high-ranking officers to be absolutely loyal to the Party, to focus on how to win in wars, to pioneer reforms and innovation, to scientifically manage commanding a unit, to lead troops in accordance with the strictest standards and to take the forefront in complying with laws and regulations. 
The president also told meeting attendees to strengthen Party-building within the military and to continue to intensify combat-ready training and exercises, to keep carrying out reforms in the national defense system and the military, and to carefully consider strategic issues concerning the PLA's future development.

Editor's picks