A school that can teach the world a lesson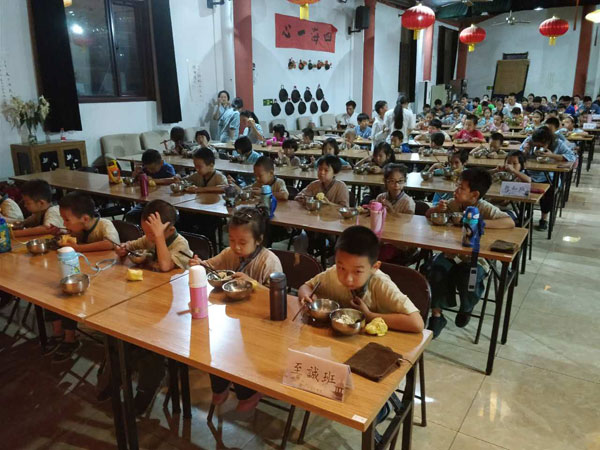 Students have supper at a dining hall in Sihai Confucius Shu Yuan, a residential Chinese school in Wenquan village near Daoxianghu Park/Fragrant Hills, in Beijing's northwest Haidian district.[Siva Sankar/China Daily]
In Wenquan village near Daoxianghu Park/Fragrant Hills, in Beijing's northwest Haidian district, is an alternative world of future global citizens where fantasy and surreal scenes acquire dimensions of tranquil reality.
A sprawling, picturesque residential Chinese school called Sihai Confucius Shu Yuan is populated by children in the 4-18 age-group who appear out of this world: polite, utterly well-mannered, quiet, charming, courteous, yet playful.
And studious too, given to reading books rather than playing mobile games or watching TV even on a Sunday evening, and even while lining up outside the dinner hall.
Some of them are in traditional Chinese robes. They bow and greet you in silken, musical tones that can melt your heart. They say a prayer and give thanks in unison before plowing into their supper in complete harmony. No hurry, no noise.
The incredible scene gets curiouser around 8:30 pm in a classroom where Chinese pupils (preteens and teens) analyze and marvel at the traits and behavior of kids of a neighboring country in public spaces such as airport lounges.
Orderliness, discipline and peace must triumph over chaos, misbehavior and cacophony, they all learn and agree after watching the online content projected on a screen.
On Thursday, they will all celebrate the 2,568th birth anniversary of Confucius, rehearsals for which were in full swing during my visit. A bunch of boys energetically practiced Chinese drum rolls. A stone's throw away, other students practiced dance and rituals.
The school's curriculum also lays emphasis on Chinese classics and Confucian teachings. Children are encouraged to practice "inner reflection, self-cultivation, loyalty, honesty, respect, trust, wisdom, and the art of being a leader".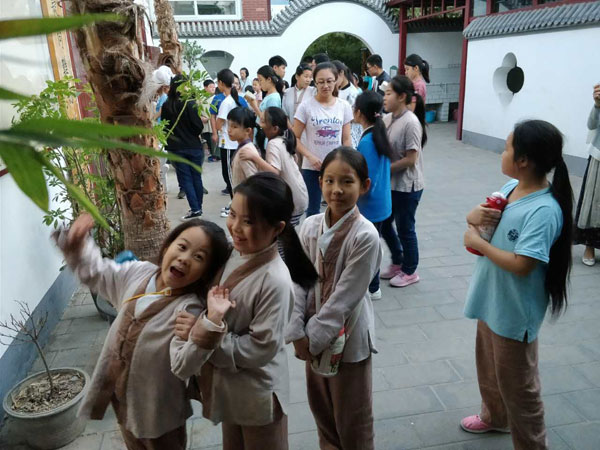 The school is populated by children in the 4-18 age-group who appear out of this world: polite, utterly well-mannered, quiet, charming, courteous, yet playful.[Siva Sankar/China Daily]
Besides Chinese philosophy, the school offers "Six Arts" like music, archery and calligraphy. Children also study modern science.
The school project started in 2006 as part of a larger goal of restoring the Confucian way of life and living, and making it available to the world gradually.
A host of government and nongovernmental organizations, including the UN's, are backing the project. Its first international program is in the works, and will likely start next year, taking in students from all countries, with English the likely medium of instruction, in addition to Chinese.
School officials said the driving philosophy is that a world in strife needs right-thinking, peace-loving, levelheaded and intelligent leaders in all spheres in future, to ensure sustainable development. It is imperative to have educational institutions with well-defined focus that are dedicated to that goal.
Students are not so much selected for admission as helped to decide if the school is what they need. Parents are encouraged to understand the residential system, and how they could play a part in making the future safe.
The idea is to lay a solid foundation for today's kids to grow up into mature global citizens, with awareness of "priceless life, gratitude, compassion, humanism and ecology".
I've again become optimistic, hopeful and confident about the world's future.
Contact the writer at siva@chinadaily.com.cn

Editor's picks