President says battle against desertification still a priority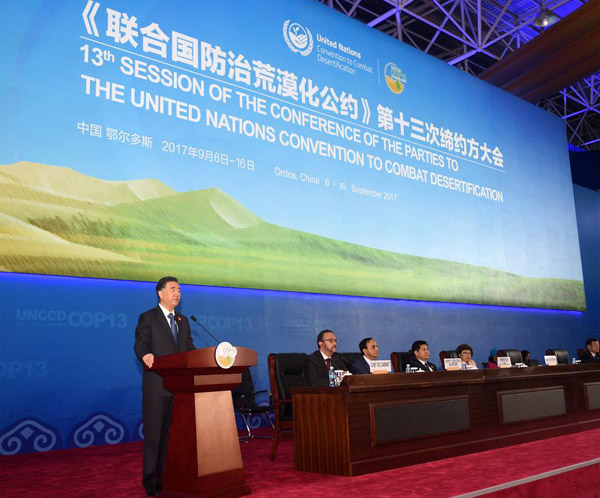 The 13th session of the Conference of the Parties (COP13) to the United Nations Convention to Combat Desertification (UNCCD) opens in Ordos city in North China's Inner Mongolia autonomous region on Sept 11, 2017. [Photo/Xinhua]
About 400 million people in 18 Chinese provinces were affected by desertification in the 1950s, according to the State Forestry Administration. A mass campaign against desertification started in 1956.
In 1978, the Chinese government decided to launch several mass campaigns to combat desertification, such as the Three-North Shelter Forest Program placing forest windbreaks in 13 provinces in northern China and known as the "Great Green Wall".
"China is very experienced in land renewal. We've seen a successful case in the Kubuqi Desert, where 6,000 square kilometers of land once covered by sand is now green and more than 100,000 of its people are now out of poverty," said Monique Barbut, the UN desertification convention executive secretary.
China joined the UN convention in 1994 and promulgated the world's first law dedicated to sand prevention and control in 2001. Most nations use regulations for this purpose
In the past five years, the area of desert decreased in China by 242,400 hectares. In 12 northern provinces and regions including Inner Mongolia, the number of people living under the poverty line fell from 47.11 million to 13.42 million.
Liu Dongsheng, deputy director of the State Forestry Administration, said China has set a goal to turn half of the country's desert into green areas by 2020. And by 2050, he said all the country's desert that can be changed will be made green.