Belt and Road cooperative mechanism to fight desertification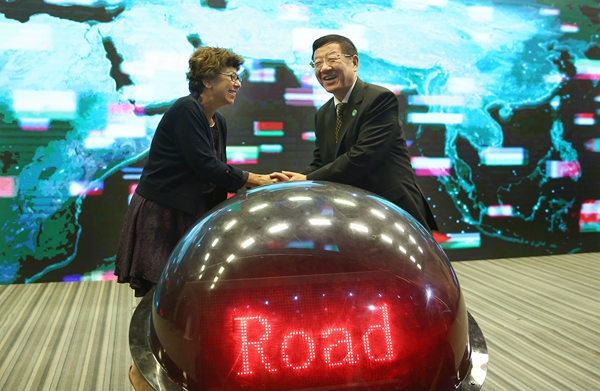 From right, Zhang Jianlong, minister of the State Forestry Administration of China and Monique Barbut, executive secretary of UNCCD. The two launched the "Belt and Road" Cooperative Mechanism to Combat Desertification in Ordos, Inner Mongolia autonomous region on Sept 10, 2017. [Photo by Zou Hong/provided to chinadaily.com.cn]
On a cool Sunday evening, the "Belt and Road" Cooperative Mechanism to Combat Desertification was launched in Ordos in Inner Mongolia autonomous region, North China.
As the UN's 13th Session of the Conference of the Parties to the Convention to Combat Desertification (UNCCD) has been going on in the city since Sept 6, the Chinese government determined more efficient cooperation would be required to combat desertification and realize sustainable development.
The Belt and Road Initiative provides a platform to accomplish this goal.
As many countries party to the initiative are also suffering from desertification, the Chinese government proposed increased cooperation on environmental protections, climate change and biodiversity conservation.
In June 2016, the State Forestry Administration of China (SFA) and UNCCD jointly issued the "Belt and Road Joint Action Initiative to Combat Desertification". The proposal called on countries within the initiative to work together to solve this problem.
The mechanism, launched Sept 10, aims to contribute to the effort to achieve global land degradation neutrality and the goals set by the 2030 Agenda for Sustainable Development approved by the United Nations in 2015.
"The mechanism will be carried forward through investment, dialogues, information sharing and technology training," SFA minister Zhang Jianlong said at the launch ceremony.
According to Pan Yingzhen, director general of the National Bureau to Combat Desertification, a group of international organizations will also be invited to engage with or support the mechanism, including the UNCCD Secretariat and United Nations Environment Programme.
Monique Barbut, executive secretary of UNCCD; Ahcene Boukhelfa, Algerian Ambassador to China; Sokhun Ty, state secretary of the Ministry of Agriculture, Forestry and Fisheries of Cambodia and Daniel Calleja Crespo, head of the Directorate-General for the Environment of the European Union also attended and addressed the ceremony.