Hot pepper industry helps county out of poverty in Hunan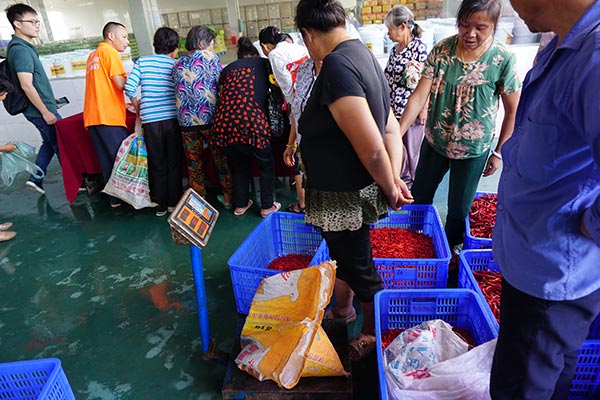 Growers wait in line to sell their hot peppers to the company in Longhui county, Shaoyang city in Central China's Hunan province, on Sept 9. [Photo by Wang Jingjing/chinadaily.com.cn]
Hot pepper, a common food in China, has helped to reduce poverty in a small county in Central China's Hunan province.
The Longhui county in southwest Hunnan was once in poverty due to its huge population and poor natural resources. Driven by China's poverty alleviation action, the local government, along with a local chilli sauce production company, pushed the local hot pepper industry to grow to help residents out of poverty.
The company, Hunan Junjie Food Company Ltd, built a pepper sauce factory in Longhui county, and gave free pepper seeds to the local people. The company then bought the maturing hot peppers from the residents.
According to the locals, they picked up the hot pepper every five days, and then sold them to the company. The selling price is two yuan per jin (500 grams).
The company also hired local residents as workers, which helped increase the incomes of locals.
Luo Jiangsheng, a hot pepper grower in Datang village, Longhui county, has a hot pepper land of two mu (1,333 square meters), and has earned more than 14,000 yuan in the past two years. In 2017, he said he wanted to expand the planting land and further increase his own income.