Polygraphs can be key to solving a case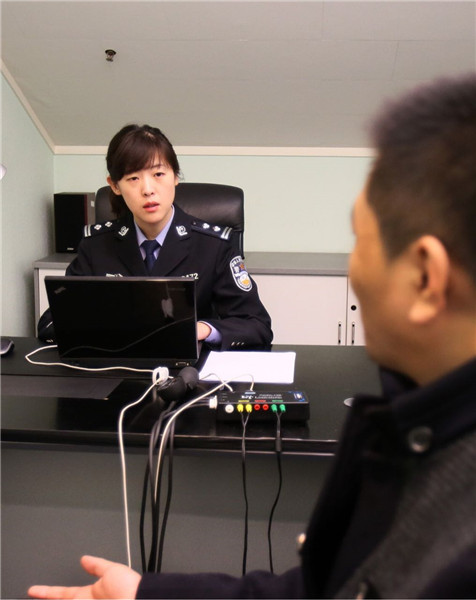 CUI YANPING, 38, is an expert in polygraphs, commonly called lie detectors. She has worked in Beijing Public Security Bureau's criminal investigation department since graduating from Capital Medical University in 2002.
I became hooked on my second day of work at the city's polygraph center.
A government department's safe had been emptied, and a preliminary investigation identified seven suspects working in its finance office. The building's security meant it was hard for nonemployees to enter.
Although the polygraph machines were similar with what I had used while studying clinical medicine at university, how the police collect and analyze data is very different.
As I was a novice, I watched a senior detective ask each employee a series of questions.
One man, who was wearing sunglasses, was connected to the device and asked, "Did you take the money?" He denied it, but our screens showed his physiological signals were fluctuating. When I saw that, my heart started beating fast. The man later confessed to stealing the money.
Since then, I've been addicted to this job. Such tests can provide an investigation with a direction, or even the key to cracking a case.
Polygraph tests are based on medical science and physiology, and have been widely adopted in Western countries, such as the United States and Japan. They have become more acceptable in China, too, in recent years.
Most of the time, our physiological reactions cannot lie when stimulated by a particular word, even when a person doesn't want to outwardly show an emotion.
In 2013, I became the first police officer to present the results of a polygraph exam during a trial in Beijing. It was in the case of a man accused of killing his child, and I appeared in court to answer questions on the test from judges and lawyers.
Yet I must point out that polygraphs, which are voluntary, are only a reference. Whether the results can be admissible as evidence depends on judicial authorities. I'm not a judge, and I have no right to say whether a person is guilty or not.
Instead, what I can do is ensure tests are conducted in an environment with the right temperature and humidity, and that the emotions of the subjects remain stable. The stricter the process, the more accurate the results.
A good polygraph test also relies on logical, valuable questions - and to ensure we ask those, we need to pay close attention to details from the crime scene.
About 10 years ago, a woman was found bleeding to death in a wasteland about 100 meters from a road in Beijing. A post mortem examination found she had been sexually assaulted.
The prime suspect was asked to take a lie-detector test. I found his psychological signals to be abnormal during the examination, but to make it more accurate, I asked him: "Did it rain at the time of the assault, or did you see someone or a car pass by?" I'd seen in the case files that one of the victim's shoes had been found on the road, suggesting she had been taken from there to the wasteland.
To my surprise, the suspect suddenly turned to look at me. His face had no expression, but his physiological signals began fluctuating wildly at the mention of a car. Later, he told me he had dragged the woman onto the wasteland after spotting an approaching car.
Questions can sometimes stimulate people, and sometimes not. Ultimately, polygraph tests are playing a bigger role in helping investigators find more clues. That's why I'm so passionate about the work and want to study it further.