You need to be sensitive to tiny details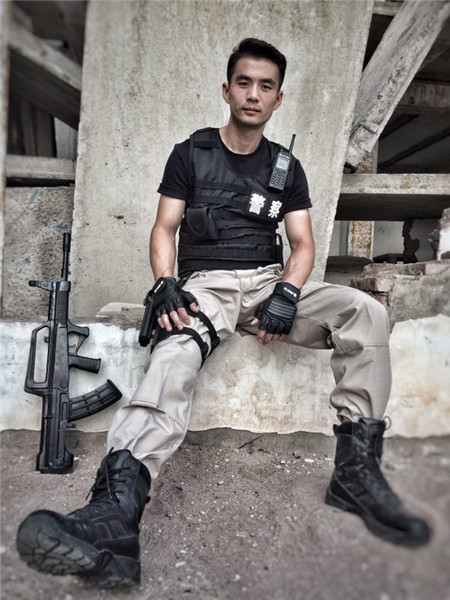 CHEN XU, 30, joined Haidian district's criminal investigation department in 2009 after graduating from Beijing Police College. He now heads a team handling major crimes, such as arson, homicide and robbery.
People usually give me a thumbs-up when they hear I've solved more than 300 cases in the past eight years, and they then tell me how hard it must be to be a police officer. But there is something also special about this job.
For a start, you need to be sensitive to tiny details.
In July 2013, I was assigned to look into a series of arson attacks on five newsstands across Zhongguancun, a busy part of Haidian district, which had all occurred in the same month. I visited business owners and residents, but there was little to go on.
When I watched footage from the area's surveillance cameras, my eyes were drawn to a man who frequently appeared around the newsstands. He never used public transportation, nor did the footage show him returning to any kind of home, which meant I had no obvious way of tracking him down.
The case looked like a dead end. But I kept watching the videos, and I eventually realized the man was wearing the same clothes every time. He could also be seen wandering other parts of the area. I was stuck by an idea: Maybe he's homeless.
With this in mind, my team and I set up stakeouts at five or six sites where the suspect had been spotted.
Fortunately, at about 8 pm on the first day, he showed up at the place I was watching. He was more than 100 meters away and it was fairly dark, but I knew it was him from his walking style and posture, which I'd memorized from the footage.
We detained him, and he soon confessed to the crime.
The moment when you break a case is exciting, but it's more than that for me. The job has also taught me to appreciate life.
In May last year, a street cleaner called police and said he had spotted a human hand after opening a strange box left in a ditch. I went to the scene and found the body of a young woman, whose hands, feet and mouth had been bound with adhesive tape.
She had been suffocated, but it looked like the body had been dumped there, so our first priority was to find where she'd been killed.
An employee ID card was found during a search of the ditch, and the name on it was the same as a woman reported missing from Shunyi district. The woman's parents identified the body as that of their daughter, saying that she had been renting an apartment in Haidian.
I could see the sorrow and helplessness in the parents' eyes. In that moment, I told myself: You must find the killer.
Surveillance footage from the victim's residential building showed a deliveryman enter the elevator with an empty handcart and then leave with what looked like a heavy box, which he then drove away with on the back on an electric bike.
We soon learned that the suspect was holed up in a small hotel. My team went there and, as soon as he came downstairs, he was taken into custody.
I clearly remember it was raining heavily on that day, but after we took him out of the hotel, there was a bright rainbow in the sky.
The suspect, who owed 200,000 yuan ($30,800) in online gambling debts, confessed to robbery and intentional homicide. He said he was familiar with the community, as he's often devilvered parcels there, and came prepared with a knife and adhesive tape.
While some people become numb after handling such cases, I still treasure my life as a police officer. When a man knows how beautiful life is, he will try his best to help the families of those who have lost theirs due to a criminal's actions.