Energy deal boosts China-Brazil ties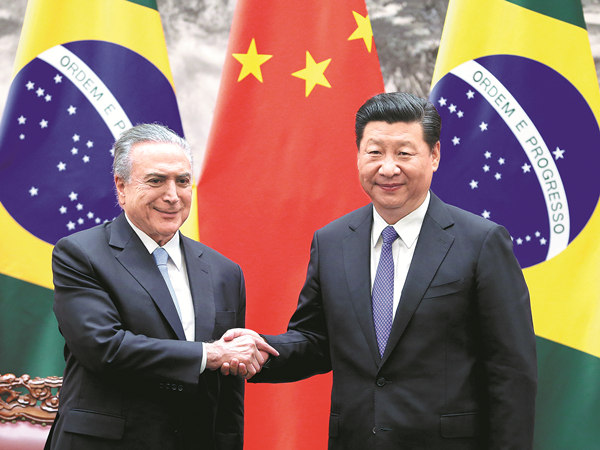 President Xi Jinping meets with his Brazilian counterpart, Michel Temer, at the Great Hall of the People in Beijing on Friday. WU ZHIYI / CHINA DAILY
Electricity is a major highlight of the 14 cooperative documents signed on Friday after a talk in Beijing between President Xi Jinping and his Brazilian counterpart, Michel Temer.
At the document-signing ceremony, which was witnessed by the two leaders, the State Grid, China's State-owned energy giant, was granted permission for construction of the second phase of the ultra-high-voltage direct current transmission project of Brazil's Belo Monte hydropower plant.
Additionally, China National Nuclear Corp signed a memorandum of understanding with Eletronuclear, a leading nuclear power company in Brazil.
During the leaders' talk, Xi said the two countries, which are the largest developing countries in the Eastern and Western hemispheres, should deepen cooperation in areas including infrastructure construction, manufacturing, agriculture, minerals, energy and production capacity.
All three locomotives of bilateral cooperation — trade, investment and financing — have achieved great progress in the past year, Xi said.
Temer said Brazil is a reliable partner of China and is ready to reinforce cooperation with China in such areas as trade, investment, finance and agriculture.
Other areas covered by the documents signed on Friday include production capacity, e-commerce, tourism, finance and sports.
Temer will go to Xiamen, Fujian province, to attend the 9th BRICS Summit, which opens on Sunday.
In a signed article issued through Xinhua News Agency, Temer noted that Chinese enterprises have invested significantly in infrastructure, energy, mining, electronics and telecommunications in Brazil.
Premier Li Keqiang said in a talk with Temer earlier on Friday that the Chinese government supports investment in Brazil by capable Chinese enterprises.
China has been the largest trade partner of Brazil for eight consecutive years, and Brazil is China's largest trade partner in the Latin America region.
President Xi Jinping meets with his Brazilian counterpart, Michel Temer, at the Great Hall of the People in Beijing on Friday.