Shanghai temple on historic move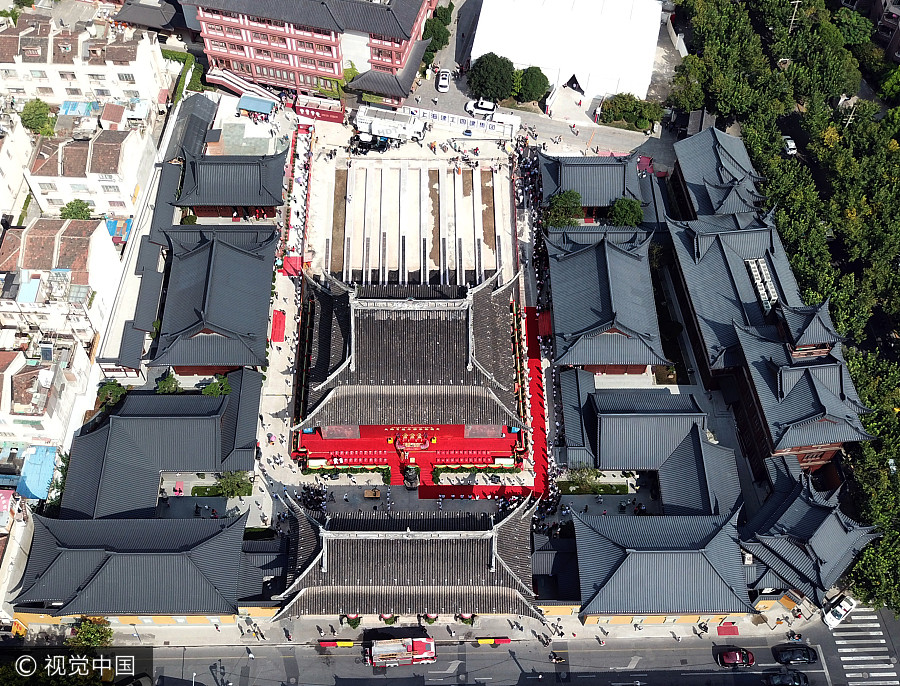 The aerial view of the Mahavira Hall of Shanghai's Jade Buddha Temple. [Photo/VCG]
SHANGHAI - The main hall of a 135-year old temple in Shanghai will be moved 30 meters to its north in order to create more space for visitors.
The Mahavira Hall, of Shanghai's Jade Buddha Temple, was built in 1882. The temple in downtown Shanghai attracts more than two million visitors a year. Daily visitors can reach as high as 100,000.
A major renovation project started in 2014. The moving of the temple started on Saturday and is set to be finished in two weeks.
The main hall of the temple will be relocated 30.66 meters northward within the temple and elevated 1.05 meters.
Master Jue Xing, abbot of the Jade Buddha Temple and vice president of the Buddhist Association of China, said moving the hall will create more space between buildings and reduce the risks of a stampede as the temple is usually tightly packed.
Buddhist statues and relics in the hall will also be moved together with the hall, he said.
Workers pumped cement into the foundation of the hall because the old building's foundation was rather soft, he said.
Statues and other relics in the building were stabilized and protected with frames to avoid damage, he said.
The moving will be carried out with the help of relic preservation experts from the Shanghai Museum, he said.
Shanghai has had several successful projects to move old buildings, including a school in 2009 and a concert hall in 2002.