Mom helps disabled son to achieve his dreams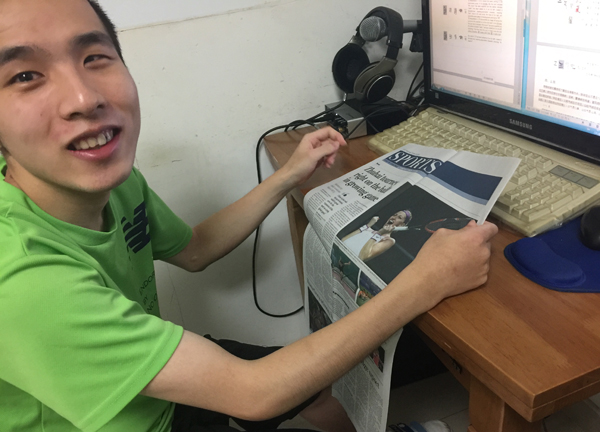 Liguan Yanping reads China Daily for a break from his translation work at his home in Chongqing. [Photo by Tan Yingzi/China Daily]
Despite having cerebral palsy, 28-year-old has overcome physical challenges and proven outstanding English-language ability
Dressed in a green T-shirt and wearing a big smile, Liguan Yanping looks like a teenager. He likes to talk, both in Chinese and English, at a slow speed.
He spends most of his time in front of a computer translating or writing songs. Last year, he translated two books about Chinese calligraphy and painting into English.
When Liguan was born prematurely, in Southwest China's Chongqing in 1989, he weighed just 1.4 kilograms and was later diagnosed with severe cerebral palsy.
Cerebral palsy is caused by abnormal development or damage to the parts of the brain that control movement, balance and posture, leading to poor coordination, tremors and weak or stiff muscles. People with cerebral palsy may also have impaired senses of touch, sight and hearing as well as difficulty swallowing and speaking.
There are about 6 million people with cerebral palsy in China, according to the China Disabled Persons' Federation.
"A doctor told us that surgery may help alleviate his muscle spasms, but that he would have difficulty sitting or walking in the future," said Guan Ping, Liguan's mother. "I had no idea what I was facing at that time."
Despite objections from family members, Guan decided not to have a second child, so she could focus on looking after Liguan.
In 1990, she quit her job as a factory worker and started looking after her son full time.
"I will do my best to help my son live a normal life," Guan said.
Guan has spent 20 years taking her son to see specialists across the country to help him improve body movement. Every day, she spends two hours massaging Liguan to help ease his muscle spasms, and supervising his physical training.
When Liguan was young, Guan was so strict with his training that no matter how much he cried, she would not allow him to give up. It led to people calling Guan "Tiger Mom", and some neighbors even told local authorities that they suspected Guan was abusing Liguan.