7.0-magnitude quake hits Sichuan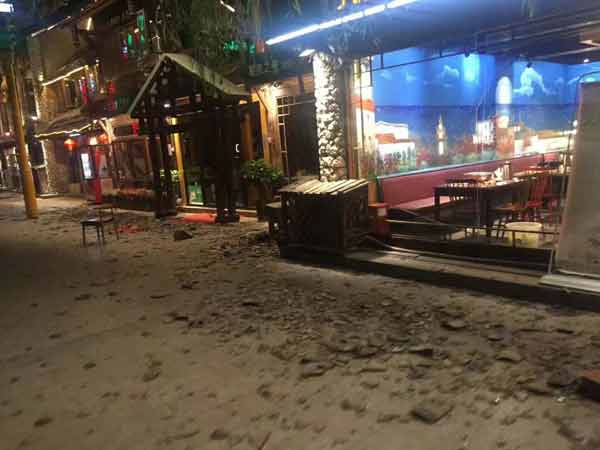 Damage caused by a 7.0-magnitude earthquake in Jiuzhaigou in Southwest China's Sichuan province on August 8, 2017. [Photo/Xinhua]
At least five tourists were killed and 63 injured when a 7.0-magnitude earthquake struck China's southwest Sichuan province at 9:19 pm on Tuesday.
China Earthquake Networks Center said the epicenter was at a depth of 20 kilometers close to Jiuzhaigou in the Aba Tibetan and Qiang autonomous prefecture. It was monitored at 33.2 degrees north latitude and 103.82 degrees east longitude. Aftershocks continued to shake the affected area.
The Earthquake Administration has launched the second level of its four-tiered emergency response system, and dispatched officers to the region to deal with emergencies.
"Our departments, including the emergency and rescue centers as well as sub-bureaus in the provinces of Sichuan, Gansu, Qinghai, Shaanxi and Ningxia Hui autonomous region have been all standing by and asked related workers to be on duty, monitoring aftershocks, collecting information and making evaluations of possible disasters," said the administration in a statement on its official website.
The armed police in Jiuzhaigou have reached the epicenter to keep order, said the Armed Police Force's Sichuan Provincial Corps. Other forces around the area have been also standing by, aiming to help rescuers.
The PLA Daily reported the epicenter is nearly 60 kilometers far away from the downtown of Jiuzhaigou, and telecommunication were temporarily disrupted.
The province's Party chief Wang Dongming asked all governmental departments to stand by and dispatched a work team to lead the rescue, according to Sichuan Daily. He said the priority is to reduce deaths and injuries and prevent further damage.