Earthquake drill held in Hechi
By (chinadaily.com.cn)
2017-07-17
An earthquake drill was held in Dahua town, Dahua Yao autonomous county, Hechi, Guangxi Zhuang autonomous region on July 13.
Under the drill scenario, a 5.6-magnitude earthquake had hit Dahua town, destroying many buildings, causing heavy casualties and disabling supply facilities.
A comprehensive drill focusing on rescue and relief work during earthquakes was launched in the area with police forces, firefighters, villagers and medical staff taking part.
The drill was organized by Guangxi Earthquake Administration, Guangxi Emergency Management Office and Hechi government, and involved the largest number of participants since such drills started being held.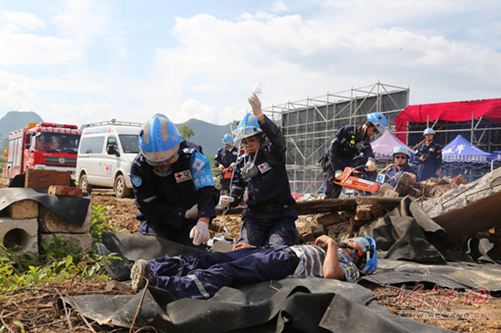 A rescue team in Dahua town, Dahua Yao autonomous county, Hechi, treats an injured person during an earthquake drill, on July 13. [Photo by Shen Yingjia/Hechi Daily]
Huang Ribo, vice-chairman of Guangxi Zhuang autonomous region, said, "Earthquake prevention and disaster reduction should place highly on the government's agenda, firmly bearing risk management in mind."
This drill tested several governmental departments and the capability of effective disaster emergency rescue, as well as testing work mechanisms, commented Miao Chonggang, director of Guangxi Earthquake Administration.
"We gain experience for preparatory plans and risk prevention in case of real-life emergencies and disasters occurring," Miao said.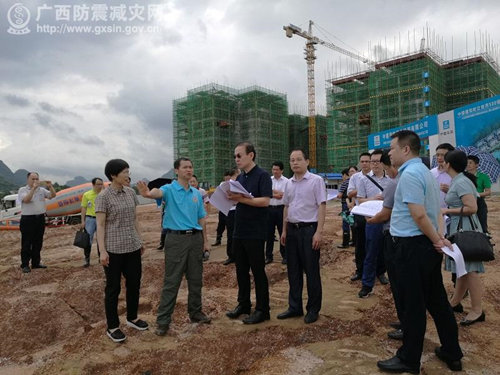 Director of Guangxi Earthquake Administration, Miao Chonggang (L3), inspects the earthquake drill sites in Dahua town, Dahua Yao autonomous county, Hechi. [Photo/gxdzj.gov.cn]