Giant mushroom found in Yunnan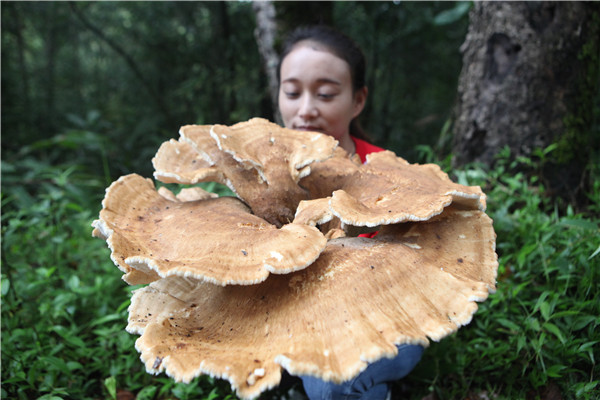 A staff member shows the huge mushroom at a commercial resort in Pu'er, Southwest China's Yunnan province, Aug 4, 2017. [Photo provided to chinadaily.com.cn]
Visitors to a commercial resort in Pu'er, Southwest China's Yunnan province, must have felt lucky to get a trip bonus - they came across a mushroom weighing 8 kg and whose perimeter reaches nearly 1.8 meters.
This is the largest and heaviest mushroom ever found in the area.
Yu Meiqiong, who has lived in Pu'er for 45 years, said it was the first time she saw such a huge mushroom.
The mushroom, which is of an irregular shape, looks like several small mushrooms formed it on top of each other, according to a witness.
Based on a preliminary assessment, it has been identified as toxic and inedible. It has been moved to a secret location in the forest in case visitors would be poisoned by touching and taking a bite of it.
Pu'er is located in the transition belt between tropical and subtropical zones, which is suitable for the growth of fungus.